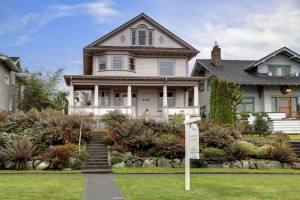 Recent reports by Standard & Poor's/Case-Shiller and the National Association of Realtors (NAR) show slower home price gains in 18 out of 20 major U.S. metro areas during the second quarter. This could cause worry for some sellers, yet it is a sign of a more sustainable real estate market after last summer's bump in prices and mortgage rates. On the other end, the gradual growth in home prices is a pro for new homebuyers.
Overview of Report Findings
The Standard & Poor's/Case-Shiller 20-City Composite Home Price Index is a great resource for both homebuyers and sellers to check periodically. This home-price index monitors residential real estate value for Atlanta, Boston, Charlotte, Chicago, Cleveland, Dallas, Denver, Detroit, Las Vegas, Los Angeles, Miami, Minneapolis, New York, Phoenix, Portland, San Diego, San Francisco, Seattle, Tampa and Washington, D.C. While their recent findings reveal an overall increase of 9.3% in May 2014 from May 2013, the home price index is down 10.8% when comparing April year over year.
The cities that really shine in the findings include those in the South and the West. Charlotte, the banking capital of the South, saw an increase of 4.6% year over year in May, and Miami increased 13.2 percent. Las Vegas experienced the largest gain at 16.9%, with San Francisco is not too far behind with a 15.4% increase.
How New Homebuyers Can Leverage Slower Home Price Gains
A more sustainable real estate market is favorable for new homebuyers. It is a great sign that your purchase will be a stable, long-term investment. Depending on your location, there's also more inventory on the market than ever before, which gives you plenty of options. Because of this increased inventory, you can take more time to ensure the house you buy is your dream home. If you are a current homeowner and want to move, this market gives you more time to continue building up your equity as you search. And the moderate gains in home pricing gives you a chance to save a bit more and plan better for the move, like investigating city neighborhoods in depth.
Home sales tend to cool off as summer comes to an end, because of weather patterns. However, you can use this to your advantage by continuing your house hunt when there is a little less competition. The earlier in the fall the better, though, since you want to keep the current, low mortgage rates on your side. Rates are expected to rise in the second half of the year. Another reason to start searching quickly is that home prices have increased every month in 2014 so far.
Resources For You
We know the home buying process can become overwhelming, especially with all the daily responsibilities of life. Let us help guide you through available home loans in your area so you can be prepared before making an offer. You can utilize our First Option mortgage calculator to estimate your monthly mortgage payment. We can also pair you with a knowledgeable real estate agent that we trust and have vetted for you. Finally, don't miss our infographic on top mistakes homebuyers make and how to counteract these mistakes!
Tags: 2014 home prices, 2014 Housing Trends, 2014 Interest rates, first option lending, first option mortgage, first time home buyer, home mortgage, house hunting, Real Estate Trends