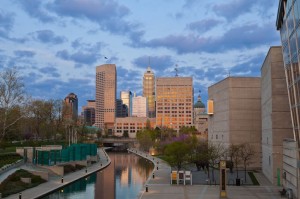 Earlier this month, the
Indianapolis Business Journal
reported that home sales have decreased for the tenth straight month. The Indianapolis housing market enjoyed a huge boost in 2013, the fourth best year for home sales in the city's history, but the numbers have again slowed. Indianapolis has experienced a 14.9% drop in June from figures during the same month a year ago. Lower demand is usually bad news for homeowners looking to sell, but you can attract Indianapolis homebuyers with a few smart strategies.
1. Keep Your Home Staged
In the past we've outlined tips for staging your home for sale, and they're particularly important in slower markets. Maintain your lawn and a high level of cleanliness throughout your home—every day, not just during an open house. You never know when a potential buyer will see your sale sign while driving past or call your realtor after seeing your ad online. Keeping your house clean and staged can turn sudden interest into a solid bid on your home.
2. Optimize Your Photos
Traditional marketing remains effective for many home sales, but listing your home online is also extremely powerful. Most homebuyers browse real estate sites such as Zillow before they visit properties, and like with anything online, good photos attract the most attention. Take photos with a camera—not your iPhone—from angles that show off your home in the best light. If photography isn't your strong suit, employ a friend or hire a local photographer. Your Indianapolis realtor should be able to provide some referrals.
3. Show, Show, Show Your Home
A general rule of thumb is to hold an open house once a month, but your real estate agent may recommend a higher frequency to attract the most homebuyers. You should prepare for drop-ins and last minute appointments. Plan with neighbors or nearby friends who can watch your pets and kids if you need to vacate your home suddenly. Simply keeping a flexible schedule while you try to sell will put you ahead of the competition.
4. Price to Sell
Even though most homebuyers expect to negotiate sale prices, an initially high price can deter potential bids. Keep a close watch on the average home prices in Indianapolis, and remain competitive with other listings. Pricing your home to sell can attract homebuyers who recently moved to Indianapolis and need to close quickly.
5. Prepare for Negotiations
Consult with your real estate agent regularly about what you should expect from bids on your home. Even if you list at your lowest possible sale price, prepare to negotiate on other things such as closing costs, appliances and minor repairs. Know your limits, but prepare to offer incentives if a bid seems like a secure deal.
6. Utilize Social Networks
A lot of real estate business is done through networking. Great real estate agents should have access to sites and forums specific to Indianapolis that help them locate and reach out to potential buyers. If you have a Facebook, Twitter, or Instagram profile, you can network with social sharing. Post occasional statuses and photos that ask your friends if they know anyone moving to Indianapolis or looking to buy a new home in the city. Though this type of marketing isn't something to rely upon exclusively, friend referrals through social media can attract real leads.
If you're preparing to sell a home in Indianapolis and would like to learn more about mortgage rates, simply fill out our Fast Response form or call our local branch at (317) 713-9500. Our experienced mortgage professionals would love to sit down and discuss your needs. We look forward to hearing from you!
Tags: 2014 Housing Trends, Everyday Living, house hunting, housing market statistics, Indianapolis Home Loan, indianapolis mortgage, Real Estate, Selling Your Home