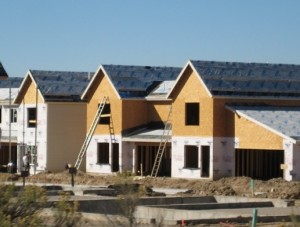 The sudden rise in housing demand may have taken builders by surprise this spring as they struggle to keep up with ever increasing demand in the recovering U.S. economy. Almost
36% of all U.S. new homes
sold in May were not under construction yet, and housing starts rose 6.8% from April, nearly 29% higher than a year ago.
Dwindling Inventory
With a low average of a four-month supply of available homes on the market (even less in some markets), the shrinking supply has fueled home prices and the need for more new construction on the market to compensate for it. In an healthy market, the typical average supply of housing inventory can be as much as six-months, making this an exceptional time to be a seller right now.
Rising Home Values
Nationally, asking prices rose 10.7% year-over-year in June. While the turn-around has been uneven with (housing prices soaring in places like the Bay Area, Phoenix, and Denver), an across the board increase in June showed the strength of the recovery with asking prices increasing in 99 out of 100 of the largest metro markets.
This is great news for underwater homeowners who are now beginning to see the light of day on their mortgage and being lifted out of negative equity by increasing prices in their neighborhoods. 850,000 homeowners returned to positive equity in the first quarter of the year, bringing the number of underwater borrowers to 9.7 million compared to 11.4 million during the same period last year.
Material Costs Up
The sudden surge in demand is not without its downside. During the recession many of the suppliers that depended on the building industry had to scale back their operations or shutter their doors altogether. Now that the housing market recovery is in full swing, prices have increased steeply on some key construction materials. This cost will end up being passed on to the consumer, leaving little doubt that prices on new home construction will go up.
The pent up demand along with steadily increasing mortgage rates should have anyone who has been sitting on the fences running to get into the market while rates remain low. If you're planning to purchase, refinance, or want to learn more about our mortgage rates, simply fill out our Fast Response form or give First Option Mortgage a call at 855-612-8970.  Our experienced mortgage professionals would love to sit down and discuss your needs. We look forward to hearing from you!
Tags: 2013 home prices, 2013 Housing Trends, best time to buy a home, first option lending, first option mortgage, house hunting, housing market statistics, Mortgage, Selling Your Home