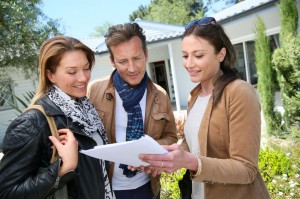 Whether you're buying or selling a home, we think there are many good
reasons to use a real estate agent
. Beyond having a wealth of knowledge about local real estate trends and the legal steps involved, an agent can serve as your advocate when bidding on your home—or can help you avoid the
risks of selling your home yourself
. That said, to really benefit, you need to find someone who possesses the qualities of a good real estate agent. For that, we're here to help. We've assembled a few of the very best (and worst) qualities of a real estate agent.
1. Years in the Field
The quality of a real estate agent can depend on a single number: how many years they've been in the field. Of course some people have a knack for the industry, but many real estate agents only learn how to navigate local listings, state laws, and showings with experience. As you're looking to hire a real estate agent, this should be the first stage in the vetting process. Find out how long they've been working—ideally in your city in particular—and narrow your choices based on that number.
2. Tech-Savvy
Years in the field doesn't always lead you to the very best real estate agent, particularly if it means they're stuck in the old way of doing things. Any good agent will realize this is 2014, and technology is a key component to both buying and selling properties. Your agent should be capable of the traditional real estate marketing methods: signage and other advertisements in local publications. They need to be skilled, though, in using digital listings and databases, since this tends to be the first place homebuyers look. So much of real estate, too, is being done on tablets and mobile devices, so you should find someone adept at the latest trends. It doesn't matter where you live or where you're moving to: If a potential agent isn't tech-savvy, you need to find someone else.
3. Sense of Focus
The very best real estate agents are men and women who pay attention to details. Preparing a home for a showing and identifying the amenities that would appeal to their clients both require a mind that can focus on the little things—straightening out a picture frame on the wall, or pointing out whether a yard would work for a family with big dogs.
You also want to find a real estate agent who focuses on you. Your needs and expectations must be met, since any sale or purchase is ultimately your responsibility, and a good agent will be respectful of that. Notice things like eye contact. Do you feel like a potential agent is really listening to you? Do you have a sense they know what you're looking for? Sometimes you won't know exactly what kind of a house you want to buy, or how to stage furniture when you sell, but a focused agent will be perceptive and understand you well enough to help you find the best fit for you.
4. Personable and Assertive
Buying or selling a home can be an emotional process, and your real estate agent will be there along every step of the way—which means you need to find someone whose company you at least tolerate, if not outright enjoy. Personable and polite agents can also be good advocates when negotiating deals, but they should also be assertive. If you're looking to buy a home with outdated appliances, your agent should be aggressive enough to point that out and bid lower. The same dogged quality can help when you're dealing with bidders who are dragging their feet. Never forget this is your home you're selling, or your future home you're buying. You need to find someone who's agreeable and bold enough to be your best advocate.
We at First Option have a network of trusted real estate agents who possess all of these qualities and more. If you're interested in 
purchasing
, 
refinancing
, or learning more about 
mortgage rates
, we'd love to talk with you—and help you find an agent who's experienced in meeting your unique needs. Simply fill out our 
Fast Response form
 to contact our experienced mortgage professionals today. We look forward to hearing from you!
Tags: first option mortgage, homebuyer, Real Estate, real estate agent, realtor