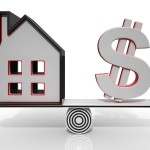 Refinancing can be a smart option if you're interested in locking in a lower interest rate, or are planning home improvements that will increase the value of your home. Keep in mind, however, that refinancing often comes with some pretty steep closing costs and potential fees that don't always make it worth your while.
There are several different options for refinancing. These include:
Cash-out refinance
Home equity loan
Second mortgage
The best time to refinance your mortgage is:
When you can lock in a lower interest rate
Prior to 2012, the average home mortgage interest rate was about two points higher than it is now. For these homeowners, refinancing to save two percent or more on interest rates is a smart idea. Also, reducing your mortgage term to a 15-year term with a lower interest rate can save you thousands.
When you've established you will recoup the cost of the loan
Know the conditions of your loan term and current interest rate before shopping for refinancing lenders. Your lender can help you evaluate whether or not refinancing will really save you money or not. In most cases, unless you plan to remain in your home for at least two years or more, the costs associated with refinancing won't be worth it.
When you want a fixed-rate mortgage
If you have an adjustable rate mortgage, you are at the mercy of the market. This has worked well while interest rates are low, but what if they jump? Refinancing into a fixed-rate mortgage may be a good move.
To consolidate your debt
With interest rates holding low, many homeowners are refinancing to pay off high interest credit card debt and consolidating it all into a single loan with lower interest rates. This can provide significant monthly savings.
If you have questions regarding the best time to refinance your mortgage, please contact First Option Mortgage. You'll work with our mortgage professionals who make your best interests their priority.
Image Source: FreeDigitalPhotos.net
Tags: best time to refinance a mortgage, first option mortgage, when to refinance your mortgage