DIY Heavy Hitters: Remodeling for The Heaviest Impact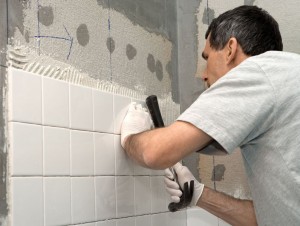 Are you looking to start the new year off with some DIY? Well, you should! Renovating your home will increase its value (and your equity), instilling a feeling of satisfaction and enjoyment when the job is done. When it comes to quality, never settle for less than your home's maximum potential. You'll spend most of your life there, after all.

According to the National Association of Realtors, homeowners are 75 percent more likely to enjoy the time spent in their home after a renovation. And 77 percent feel a huge burst of accomplishment after completing a project.

The NAR created a 2017 Remodeling Impact Report (which you can read here), so you can gauge the estimated cost and the estimated amount a project adds into your home equity and property value.

We have you covered with the report's most impactful, most satisfying remodeling projects. Here are the top-five that will give you the biggest bang for your buck, and your happiness!

Hardwood Flooring
A whopping 21 percent of realtors are recommending placing hardwood flooring before even attempting to sell a house. Efficient, sturdy flooring is currently one of the single-most requested upgrades to older homes. Just by replacing an older carpet you can drastically alter your home's appeal, with seven percent of buyers saying that hardwood flooring was a deciding factor in closing the deal for them.

And if you have hardwood floors that might need a little TLC, don't be afraid to break the bank. Refinishing wood flooring is significantly cheaper than replacing, with average returns values of 100 percent!
Estimated Cost: $5,000
Estimated Percent of Value Recovered: 91 percent.

New Roofing
If you're looking to get down-and-dirty on an exterior project, don't look to the yard just yet—just look up! Replacing your roof is the most efficient and beautiful renovation to draw in new buyers. In fact, it's the first place that draws their eye. With average roofs being several years old, a brand new roof acts as a huge bonus to prospective buyers. Anything else will appear worn-out and spent from withstanding several years of rain and wind damage.
Roofing also improves a home's insulation. So be on the lookout for a new roof if you're in the market for a warm, energy efficient house this winter!
32 percent of home sellers say that a new roof was the part of the house that helped them close a sale, with 45 percent of realtors suggesting to their clients to upgrade their roofs. If you're looking for a renovation under $10,000 that's a beautiful and functional change of pace, replacing your roof is the perfect fit.
Estimated Cost: $7,500
Estimated Percent of Value Recovered: 109 percent!

Upgraded Landscaping
Whether do-it-yourself or professional, nothing says curb appeal like plating some colorful flora to the outside of a house. If your yard could use a little extra work, a basic landscaping package can make a world of difference than, say, just mowing the lawn, or setting out a potted plant and some balloons.

While you can still have loads of fun doing this yourself, professional contractors know what they're doing. Basic landscaping packages do range anywhere from three to five-thousand dollars. The return investment on the home is more than worth it, though.
In the NAR's report, landscaping was the biggest motivator to buyers, with 75 percent of homeowners saying they closed a deal just from the outside! Who knew a couple of ferns and a flagstone path could be so useful to selling property?
Estimated Cost: $4,500
Estimated Percent of Value Recovered: 105 percent, capping at $5,000.

New Garage Door
If your home is a face, then consider your garage doors to be the teeth. If those large doors are showing some yellow or crumbling foundations, they'll be the first thing homeowners see. Luckily for you, home dentistry is far less expensive, and the results are instant. Repainting tired surfaces or replacing worn-out material and finishing may help improve a home's overall appearance, but it's the functionality that homebuyers desire.

Only 3 percent of homeowners say the project cinched a home purchase, but you can imagine the embarrassment when a buyer notices the garage door needs work, or doesn't work altogether.
Estimated Cost: $2,000
Estimated Percent of Value Recovered: 87 percent.

New Vinyl Siding
Vinyl siding might be on the very bottom of your list, if at all. But if you've owned your home for several years, you might be surprised to learn about the staggering improvements to vinyl siding has made these last few years. With newer siding, your house's vinyl will withstand twice as much, and stand out twice as vibrantly.

Consider upgrading your siding if you're looking to sell your house in the next two years. It's one of the most important recommendations to boosting your home's appearance.
Estimated Cost: $10,000
Estimated Percent of Value Recovered: 75 Percent.

There are several options for renovating your home—don't think we forgot about the others! While these options will give you the biggest bang for your buck, don't forget the gold-standard home renovations! Kitchen overhauls and basement finishing's might cost significantly more while increasing your equity by fractions. However, they also add more value overall. And when all is said and done, an updated kitchen just might leave you with a greater sense of accomplishment.

Do you think we left anything out? Looking to finance to start your home selling search? Fill out our lighting fast response form, we'd love to share our knowledge with you! And follow us on Facebook and Twitter for more home and decorating ideas!