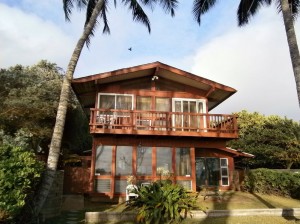 Earlier this month we reported that 6% of all residential sales in the U.S. go toward a second (or third) home. The surprising figure is due to a simple fact: second homes are no longer just for the fabulously wealthy. With tax benefits and the opportunity for added income from rent, more and more Americans are buying vacation homes. If you're considering it, like with any home you should look where the market—and tourism—is good. These five destinations are a great place to start.
1. Oahu, Hawaii
The Hawaiian islands have notoriously high property values, but it's a tough market to crack into for a reason: tourism booms year-round. A vacation home on Oahu will be there and beautiful whenever you have time off from work, and there for rental income when you don't. Unlike many spots in the U.S., Hawaii attracts visitors 12 months out of the year—and not just couples on their honeymoon! Oahu is becoming extremely popular for families, and with Pearl Harbor and natural attractions, history and geology buffs alike swarm to this piece of paradise.
2. Galveston, Texas
Just an hour away from the fourth-largest city in America, this Houston beach suburb is accessible whenever you want to get away. Once a quaint little beach town, Galveston has become a major port for cruise lines and anyone in the Lone Star state who wants to escape to the ocean. The tourist industry is booming, so its rental potential is one of the strongest in the country.
3. Destin, Florida
Panama City, Florida receives a lot of tourist attention, but that's usually due to spring break crowds. College students on breaks aren't great renters when you're gone or great neighbors when you're there, so many vacation home buyers opt for Destin instead. With white sand beaches and tons of family-friendly businesses, it's a great, quieter place to escape to and invest in.
4. The Poconos in Pennsylvania
These mountains just outside New York are becoming one of the most popular destinations for city-dwellers. With accessible skiing in the winter, beautiful foliage in the fall, and serene nature 12-months out of the year, more and more people are flocking to the area for a break from skyscrapers.
5. Cape Cod, Massachusetts
Idyllic beachfront businesses, long history, and just a quick ferry ride from Boston, Cape Cod remains one of the most popular destinations for Americans and international tourists. For families and beach lovers alike, the town has captivated visitors for decades. With such a strong, steady tourist industry, a vacation home on Cape Cod can be a great investment and income source.
If you're interested in purchasing, refinancing, or learning more about mortgage rates, simply fill out our Fast Response form. Our experienced mortgage professionals would love to sit down and discuss your needs. We look forward to hearing from you!
Tags: 2013 home prices, 2013 Housing Trends, best time to buy a home, house hunting, housing market statistics