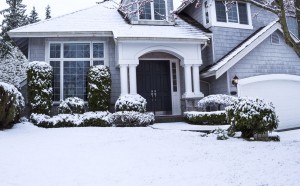 They say you should never switch jobs or hunt for a house during the holiday and winter season. We can't speak for the job situation, but there are many advantages to buying a home during the coldest months of the year — the biggest of which is that very few buyers are out there. But there are other benefits, too, like tax breaks, lending incentives, and more.
So slip on those thermals and snow boots and get ready to give the season a cold shoulder by buying a home in winter.
Put high prices on ice
When people think of wintertime, they think of all those those icy roads, dark afternoons, and holidays — but buying a home isn't high on their to-do list. And that's exactly why winter is the perfect time for house hunting. Homes are priced to sell, and with fewer buyers out there, you'll find fewer competing offers and less of a chance of a bidding war.
Additionally, with a talented real estate agent by your side, you might even be able to tap into the new year's roster of available homes.
Jack Frost motivates sellers
In the real estate market, if a house is for sale in winter, there's usually a pretty good reason for it. Sometimes the homeowner needs to sell in a hurry due to a new-year job relocation, or it could possibly be as a result of a financial hardship. There are many reasons a home might be on the market, but determined house-hunters should take advantage of a seller's urgency.
Just be cautious of a home's condition in wintry locations, as snow can hide defects in places like a roof or chimney. Ask to see photographs of the house that were shot earlier in the year so you can spot any faults or problem areas before making an offer.
Cold hands, warm tax breaks
A great benefit to buying a home this time of year is being able to take advantage of all the tax breaks. You can deduct property taxes, mortgage interest, loan costs, and more when it's time to file. You'll also be able to build equity in your home while saving money on deductions, which is incredibly useful while you're still paying off the interest on your loan.
A calm in the lending storm
Many sellers, buyers, and real estate professionals take time off during the holidays and bad weather months, so you might be able to take advantage of the lending lull with special incentives, reduced or waived fees, and better mortgage rates. The shorter days and colder temperatures might even allow you to negotiate a better price with the seller if you're able to close the purchase in less than a month. Again, there may be fewer homes to choose from in winter, but there will also be fewer buyers to compete with.
Are you considering buying a home soon? We're always here to help. Get in touch with us anytime, or connect with us on Twitter and Facebook.
Tags: homebuying, lending, Mortgage, winter