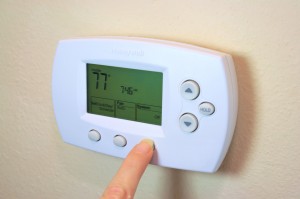 Summers are hot, and whether you have central A/C or just a window unit, they're expensive too. Energy bills tend to skyrocket in the warmer months for obvious reasons. Since they're the price we pay to remain comfortable, most people just grin and bear it, but you don't have to go broke to keep your house temperature at a livable level. We've assembled some energy saving tips to keep you cool—and your bank statement steady—this summer.
Stay at 78°
78° is naturally the most comfortable temperature for your body, and it happens to be one of the most energy efficient settings for your A/C. If you're naturally warm-blooded or you've just come in from the sweltering outdoors, 78° feels too warm, but lowering your thermostat just a degree or two exponentially increases your energy bill. If you've been running around, before adjusting the A/C, try taking a cold shower or stand under a ceiling fan. Soon you'll be feeling comfortable again, and you'll be saving money.
Close the Upstairs
It might've been decades ago, but you probably remember that cold sinks and heat rises from science class. It's true, especially with the temperature in your home. Adjusting your upstairs thermostat and keeping the floor closed off when it's not in use, even if that's only for a few hours, can save you hugely month-over-month.
Insulate
Hot air is always moving toward colder areas, which means it's making its way into your home wherever it can. Keeping your walls and attic insulated, windows caulked, and doorjambs working will keep the warm outdoors from heating up your home. This can be an investment, but it'll help keep the warm air inside in the winter too, and the energy savings will compensate for it quickly.
Shut Blinds
Greenhouses stay warm even in the winter because of sunlight, and your windows, large and small, work the same way on a smaller scale. Natural light is a comforting thing, but in the summer it can heat your home like a greenhouse. Especially during the warmest parts of the day, draw your curtains and shut your blinds to reduce the amount of sunlight entering.
Mind Your Outlets
Though televisions and cell phone chargers won't increase your home's temperature much, they do take a toll on your energy bill. Even when chargers and large appliances aren't in use, they're still sucking power, so try to leave them unplugged. A surge protector with a kill switch works to easily "unplug" a whole entertainment center, but develop a habit to unplug any electronic that's left unused while you're walking through your home.
If you're planning to purchase, refinance, or want to learn more about our mortgage rates, simply fill out our Fast Response form or give First Option Mortgage a call at 888-644-1999.  Our experienced mortgage professionals would love to sit down and discuss your needs. We look forward to hearing from you!
Tags: Everyday Living, green home living, home energy