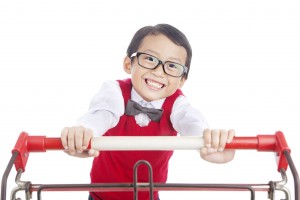 The first day of school is just around the corner, and if you're a parent, that signals the time to go back-to-school shopping. For some families and their household budgets, August is a time to dread. New clothes, new school supplies, and aisles upon aisles of choices can make back to school shopping as expensive as Christmas. But it doesn't have to be. Back to school shopping for your kids can be done frugally, at least when you follow a few tips to save money.
Assess Your Needs
When you're in the store, looking at reams of paper, pencil cases, snack containers, three-hole punches, and backpacks, everything seems essential, but it's not. Before you enter any stores, take a stock of what your kids really need and what school supplies from the previous year can be reused. Then create a list, and don't deviate from it. If your kids need special colored paper or a certain shirt later in the year, you can buy it then, when your budget is looser. Initially, stick to the bare necessities.
Start Early
Stores compete with each other to draw in back to school shoppers initially, so take advantage of that. Keep your list with you whenever you run errands, and if you find something on your list at a great price, buy it then. The most expensive back to school shopping occurs in the final days leading up to the start of school, so space out your shopping to find the best bargains.
Buy Second-Hand
Good clothes come at a high price, especially if you buy them right off the racks. Second-hand clothing used to evoke images of 30-year-old sweaters donated to thrift shops, but times have changed. Second-hand boutiques and reputable consignment shops for adults and kids can be found just about anywhere, and most contain the latest fashions. Buying used clothes can result in huge savings
Balance Expectations
Your kids will probably have high expectations for their school supplies and new wardrobe, but expectations rarely conform to a parent's budget. Ask your kids to list a few items or pieces of clothing they really want, and try to buy at least one of them. For the rest of the list, if they're too expensive, look for substitutes.
As you're managing your back to school shopping budget, you may be looking to purchase, refinance, or learn more about mortgage rates. Our experienced mortgage professionals would love to sit down and discuss your needs. Simply fill out our Fast Response form or give us a call at 855-300-4339. We would love to hear your story!
Tags: Everyday Living, first time home buyer