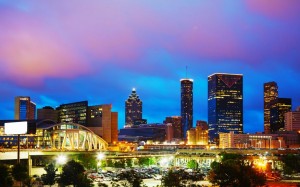 Once called the "poster child of sprawl," the city of Atlanta is making a surprising shift in its housing market. Walkability has become the new trend, a radical change that's affecting the city's urban development and real estate market. The days of drivable suburban sprawl may be coming to an end in this Georgia metroplex. With huge increases in home and rental values in areas deemed WalkUPs, anyone looking for a home or to invest should make note of this trend.
Surge in Popularity
For decades, Atlanta's urban development flourished on one basic premise: expansion. Drivable real estate flourished farther and farther from the city's epicenter until the 90's, when some business and renters began coveting more walkable urban areas. Today, Atlanta's WalkUPs constitute only 1/200th of the city's landmass but hold 20% of its office, retail, and other commercial property. As the trend continues, more WalkUPs are predicted to emerge, and these striking figures will only increase.
Where Are the WalkUPs?
Urban developers have identified 27 Established WalkUPs and another nine that have been deemed Emerging. These areas are self-descriptive: regions in the Atlanta metroplex where housing and businesses are close enough together to increase walkability. A slight majority (59%) of Established WalkUPs congregate around the MARTA rail system, and 74% of them are within Atlanta city limits. The others and Emerging WalkUPs are found in the suburbs.
A Changed Market
The most striking figure from "The WalkUP Wake-Up Call: Atlanta," a report issued earlier this month, is the comparison of rental premiums. Renters living in walkable Atlanta neighborhoods pay an average 112% more than residents of the drivable surburban sprawl. Though their figures aren't quite as striking, commercial real estate and the general housing market show similar spikes in WalkUPs.
As this trend continues, the disparity will only grow. For investors and future Atlanta homeowners, this means any home or property should be judged by its walkability. The prices in Established WalkUPs may be beyond the financial means of many people, but the Emerging and Potential neighborhoods could become a wise investment for the future of Atlanta real estate.
If you are interested in looking for an Atlanta mortgage, First Option Mortgage is here to help. To learn more, simply fill out our Fast Response form or give us a call in our local branch office at (770) 226-5800. Our experienced mortgage professionals would love to sit down and discuss your needs. We look forward to hearing from you!
Tags: 2013 Housing Trends, Atlanta Mortgages, housing market statistics, Real Estate