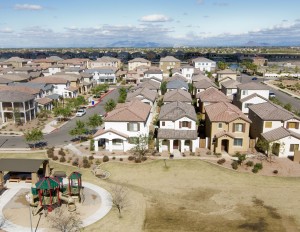 HARP, or the Home Affordable Refinance Program, which was developed as part of the American Recovery and Reinvestment Act, has officially been extended two years to
December 31, 2015
. This is great news for Arizona homeowners who have found themselves underwater on their mortgage and want to get in on the great low interest rates currently being offered for today's mortgages.
Thanks to a strong seller's market, fewer Arizonans are finding their personal finances compromised by owing more on their mortgage than their house is worth. However, data reported on at the end of 2012 still showed 40% of homeowners underwater on their mortgages, meaning there is still plenty of room for improvement.
If you are a part of the nearly half of Arizona homeowners who have found themselves underwater or close to underwater on their mortgage, there is relief available! HARP is a program designed specifically for mortgages that have a loan-to-value ratio that exceeds 80%. There is no cap on how much you can owe in comparison to the value of your home. An appraisal may not even required to qualify for this home loan!
Cutting the Red Tape
More than 2.2 million borrowers have refinanced through HARP since its inception. Despite what you may think, qualifying for this government backed program is simple. If you answer yes to the following, you may be eligible to take advantage of this program:
Your Arizona mortgage is currently owned by Fannie Mae or Freddie Mac
Your mortgage was purchased by Fannie Mae or Freddie Mac prior to 5/31/2009
Your current loan-to-value ratio exceeds 80%
You are current on your payments and do not have a late payment within the last 12 months
Taking the Next Steps
If you would like to discuss refinancing your Arizona mortgage under HARP, simply contact a qualified lender such as First Option Mortgage to discuss your needs. An experienced HARP refinance lending specialist from our Arizona branch can review your options with you and help guide you through the process to get you back on the path of financial security.
Tags: first option lending, first option mortgage, mortgage lending, Phoenix Mortgage, refinance