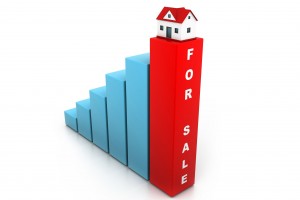 At First Option, part of our mission is to keep you informed about the latest trends and news in the housing market. By doing so, we let you know when it's a good time to
buy a new home
or
sell your current one
. But as you'll see, sometimes those two things are fairly interconnected in broader market trends.
March boomed
Now that more definitive numbers are in, we can tell you that spring has been huge. According to Redfin, home sales went up 8.9 percent in March, which is the fastest average pace since they began tracking real estate data back in 2010. Not only that, but this spring's market has meant homes are selling fast — and selling for a lot. Over 19 percent of homes on the market went under contract in less than two weeks, and 21.7 percent of them sold for more than the list price. If you're just looking at those metrics, it appears to be a seller's market.
It's a seller's market (except when it isn't)
A key factor that confounds things for both buyers and sellers, though, is a general housing shortage in the early part of 2017. A housing shortage might sound like good news for sellers, but it's more complicated than that. The vast majority of the time those sellers are also buyers. Homeowners putting their own houses on the market are usually looking to buy as well. Completing the sale of an existing home is contingent upon getting a new one, so for sales to finalize, sellers need to be able to buy.
The so-called "seller's market" really only benefits firms building and selling new homes. It's far less beneficial to individuals who are selling. Nevertheless, now is still a good time to get a decent price for your home if you're looking to sell.
Mortgage rates are up
Mortgage rates are going up ever so slightly. Normally that's not the best news for prospective homebuyers, but this comes with a bit of context. Mortgage rates are up, but they've been at historic lows for the past decade. So even though they're trending slightly upward, they're still low. In fact, they're very low when you look at rates through most of American history. That's still good news for buyers.
Foreclosures are down
One of the biggest negative indicators in the housing market, foreclosures, fell in March. According to MarketWatch the foreclosure rate in more than 100 American housing markets fell to below pre-recession levels. During the first quarter of 2017, the number of foreclosure filings fell to 19 percent nationwide. To find a lower foreclosure rate in the U.S., you'd have to go all the way back to the third quarter of 2006. The foreclosure decline definitely indicates a strong housing market, but fewer foreclosures can also affect the supply of housing stock, as we mentioned above.
We'll continue to keep you up-to-date on the market. You can connect with us on Facebook and Twitter. And if you have any questions or comments, please leave them in our fast response contact form.