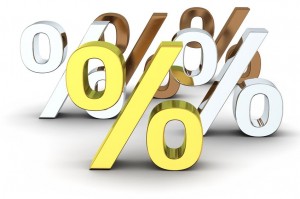 Many people may use these two terms interchangeably, but interest rate and APR actually serve as two different functions. The short explanation is that the interest rate is the starting point in what you will pay for a mortgage loan, while the APR is the rate plus any associated fees.
Definitions:
Interest Rate:
An interest rate is the rate at which interest is paid by the borrower for money extended from a lender for the use of assets. Interest rates are typically expressed on an annual basis. The fundamental forces that determine interest rates in the United States are the Federal Reserve, bond market, and economic forces.
Annual Percentage Rate (APR)
The annual percentage rate describes the interest rate for a whole year as it applies to a specific mortgage loan and is calculated as the rate for the payment period, multiplied by the number of payment periods in a year. The effective APR includes additional fees such as loan origination fees and monthly service charges.
By comparing interest rate to the APR, you should be able to determine how much your lender is charging you to finance the loan. This will also allow you to see what kind of fees are being charged to lower your interest rate or increase your rate to cover your closing costs.
How to Compare Lenders using the APR:
It is important to keep in mind that although the Truth in Lending Act requires lenders to include certain fees in the APR calculation, but some are optional. You will almost always see points, administrative fees, title fees, attorney fees, mortgage insurance premiums, and prepaid interest included. What you may or may not see included are application fees and tax service fees and what you likely will not see included is the appraisal fee, credit report fee, title fee and recording fees.
Be sure to review what fees have been included in the APR and ask you lender to disclose all other fees involved in order to make an apples to apples comparison between the various mortgage rates you are being quoted.
If you are interested in getting a rate quote from First Option Mortgage, or would like to discuss refinancing or purchasing a home loan, simply fill out our Fast Response form or give us a call give us a call at 888-644-1999. Our experienced mortgage professionals would love to discuss your needs. We look forward to hearing from you.
Tags: Annual Percentage Rate, APR, first option lending, first option mortgage, mortgage rates, refinance