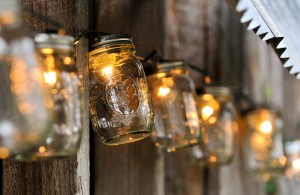 Living in Arizona has its benefits. Warm winters and dry heat, beautiful rugged terrain, mountains, desert, and forests with great cities and towns throughout the state. However, living in a dry, hot climate is not conducive for traditional landscaping such as large expanses of grass and plants that require massive amounts of water to maintain.
You don't have to sacrifice the beauty of your yard to conserve water and maintain a budget friendly landscape for your Arizona home. By combining native, drought-tolerant plants, incorporating a variety of textures and mediums, and accenting with lighting, you can create curb appeal and an affordable yet memorable yard.
Begin with Colored Gravel
One of the more popular options for desert landscapes is colored gravel. It is readily available in all shapes, sizes and colors. Use smaller gravel as ground cover and incorporate  some larger boulders and rocks for interesting accents. Gray is typically going to be the least expensive, but if you choose to go with a colored rock, keep your exterior paint color in mind and make sure the color will complement it.
Incorporate Flowering Plants and Desert Grasses
Southwest favorites include the desert marigold, Mexican honeysuckle, red-hot poker, and native sunflower. Bougainvillea and torch plants are both hearty and can add pops of color year round. Also consider adding ornamental desert grasses to create a lush look. These hardy, low care grasses can be easy to find and relatively inexpensive to purchase. Consider Indian rice grass, curly mesquite grass, and desert needle grass to accent your yard.
Add a Dry Creek
Artfully arranged river rock can create a focal point for your yard. It gives the appearance of a creek with running water when there is none. It can also help direct drainage through the property and this low cost option runs just 5 cents to 35 cents per pound.
Accent with Lighting
Adding lighting can enhance the look of your landscaping, allow you to enjoy your yard late into the evening, and create a more romantic ambiance. Consider mason jars, strings of white Christmas lights, and solar path lighting for inexpensive ways to incorporate lights into your landscape.
If you insist on having grass in your yard, you can use grassy areas as accents rather than large expanses. Plant and patches closer to the house where your grass can get some shade in the afternoons during the hottest time of the year.
If you are interested in speaking with one of our Phoenix mortgage lenders or are interested in getting more information about the loans we offer, simply fill out our Fast Response form or give us a call in our local branch office located in Scottsdale at (480) 751-3400. Our experienced mortgage professionals would love to sit down and discuss your needs. We look forward to serving you!
Tags: arizona mortgage, Everyday Living, first option lending, first option mortgage, Phoenix Mortgage