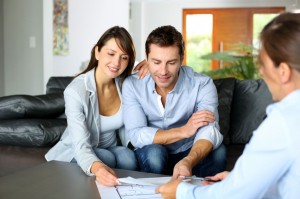 A fixed rate mortgage is pretty straightforward: You borrow a specified amount and agree to pay it off over a specified amount of time at a specified interest rate.
Ajustable rate mortgages
, or ARMs, are complicated, not just because those amounts and rates fluctuate, but because they come in a variety of forms. For quite a few of our clients, ARMs are the preferred method of borrowing—but before you can decide whether a fixed or adjustable rate mortgage is right for you, you need to understand both. Since we deal with Ajustable Rate Mortgages often, we understand the nuances, so we've provided an outline of what they are and how they work.
Definition
On the surface, an ARM is simply what it sounds like: a mortgage with an interest rate that adjusts over time. How that happens is more complicated. The interest rate will fluctuate depending on the rate of a major index, such as the amount of money the Treasury Department receives from debt securities every week. ARMs operate a bit like the stock market. If the index remains low, you could always pay less than a fixed rate would be; if it shoots up, though, you could face paying much more.
Fixed Rate Period
ARMs begin with a fixed rate period, where the rate remains low for a certain amount of months or years. This length of time will vary, depending on each mortgage, but afterward the rates will adjust annually or in another period of time, outlined in your agreement. The 5/1 ARM is fairly standard, in which the fixed rate period will last for five years and adjust annually after that period has passed.
Limitations
Unlike stocks, which could and occasionally do bottom-out, ARMs have limitations. These vary from the limit an interest rate can increase at one time to how much it can raise over the lifetime of the loan, or even how much the monthly payment can be.
Varieties
Occasionally other ARMs exist, like the interest-only mortgage, in which the borrower may elect to only pay the interest month-over-month for a specified amount of time. Other ARMs are convertible and may be changed to a fixed rate mortgage for a fee.
If you're planning to purchase, refinance, or want to learn more about our mortgage rates, simply fill out our Fast Response form or give First Option Mortgage a call at 888-644-1999.  Our experienced mortgage professionals would love to sit down and discuss your needs. We look forward to hearing from you!
Tags: first option lending, first option mortgage, first time home buyer, home mortgage, Mortgage, mortgage education, mortgage interest rates