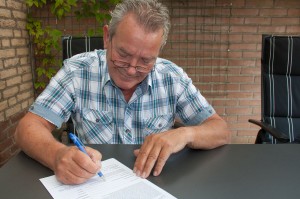 Renting out your home has become commonplace throughout America, but it remains a long, involved process. In the past few weeks, we've examined 
preparing your home for rental
 and
attracting ideal tenants
.  These steps constitute the bulk of the rental process, but drafting documents that outline rental policies is an equally critical step. Once your home is ready and you've found a tenant ready to sign a lease, you
need
a lease and a few other documents to ensure your home is protected.
The Rental Lease Agreement
This is the single most important document you'll need when renting out your home. A good lease will be loop-free to protect you and your property and keep long-term tenants in the property. Various sites offer state-specific forms or free lease agreements to download, but whether you pay or find one for free, you should review it with an attorney to ensure it's binding. Your agreement must outline whether the lease is one-year, month-to-month, or something in between, and it must contain other pertinent information like the tenant's name, the property address, rent and late fees, the move-in condition report, and any provisions or restrictions specific to the property.
Signing and Collecting Rent
When signing the lease, most property owners like to meet at the property, and many highlight the sections requiring signatures in advance to ensure nothing is missed. It's also wise to require initials beside each important item and provision in the lease, so the tenant truly reads the document in its entirety and demonstrates s/he agrees. Upon signing, collect the deposit and first month's rent in a secured form like a cashiers check or money order; you may or may not pro-rate if the tenant moves in during the middle of the month. You should then specify how and when a tenant will pay rent, usually by mail to a PO box.
Move-in Condition Report
In many states, you won't be able to charge fees for damage if you didn't provide a move-in condition report, detailing the property before the tenant moved in. Some property owners opt to take photos of each room too. Give the move-in condition report to your tenant upon signing the lease, and allow her/him time to review the property too before signing and returning it.
Next Steps
Once these documents have been signed and the first month's rent is collected, your property is filled! The bulk of your responsibilities will now include collecting rent, making repairs when necessary, and maintaining accurate financial records. Should you face other problems, countless forums exist online to discuss them with other property owners.
If you're planning to purchase, refinance, or want to learn more about our mortgage rates, simply fill out our Fast Response form or give First Option Mortgage a call at 888-644-1999.  Our experienced mortgage professionals would love to sit down and discuss your needs. We look forward to hearing from you!
Tags: A Guide to Renting Your Home, Everyday Living, rental properties, renting your home