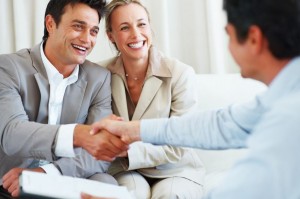 Because so many of our clients own, operate, or plan to own and operate rental property, we at First Option Mortgage understand how difficult renting out your home can be. Last week, we discussed
preparing your home for rental
. As a property owner, preparation can be an ongoing process—as can the second step: finding and securing reliable tenants. Whether you rent as a source of income or need to fill your home while you're temporarily away, you want good renters. Identifying tenants who will pay their rent on time and respect your property is never easy, but we have some hints to help the process.
Advertise Broadly
Like selling a home, you want to attract many "offers" when choosing a tenant. Advertising your rental property on as many sites and listings as possible will automatically increase the number of interested tenants. Consider print advertising, but list your property on major sites like Craigslist, Zillow, and PadMapper to increase your chances of finding the ideal tenant.
Pre-screen Everyone
Showing your property can require a lot of work and time on your part, so before you do, screen potential renters when they first contact you. Create a list of stringent qualifications and ensure a potential applicant meets them. Stable employment is necessary, but you also need to know that they earn more than enough to pay their monthly rent. Ask too for references and credit scores to see if they've broken leases or left properties damaged in the past. If they meet these requirements, schedule a window of time that you'll be at the property for all interested prospects to come visit at once.
Create the Application
The application you distribute to all prospective tenants should include pertinent details (personal contact information, current/previous addresses and employers, and a release of information statement) and require an application fee at least large enough to cover the cost of a background check. Give an application to everyone interested in your property, even if you sense they wouldn't be a respectful or reliable tenant—you could be sued for discrimination otherwise. If you've properly prepared and advertised your home, you should receive numerous applications and can sift through them to find the best few.
Check Backgrounds and Verify Income
Sites like Bigger Pockets offer comprehensive background checks, and they require very little effort on your part. Credit scores may not matter to you, but prior criminal charges, bankruptcy, and evictions should raise concerns. Use this information to also verify that the information on their application is correct. If it is, call their employers and all past landlords to gain a better sense of the kind of tenant they'll likely be.
Accept or Deny Applicants
Ideally you'll receive more than one good applicant, in which case it's safest to accept on a first-come, first-serve basis. Send written letters of denial to all other applicants, offering reasons why, and request a deposit to hold the vacancy from the accepted applicant. As long as he or she hasn't found another property, you've found a tenant for your home!
If you're planning to purchase, refinance, or want to learn more about our mortgage rates, simply fill out our Fast Response form or give First Option Mortgage a call at 888-644-1999.  Our experienced mortgage professionals would love to sit down and discuss your needs. We look forward to hearing from you!
Tags: 2013 Housing Trends, A Guide to Renting Your Home, Everyday Living, first option mortgage, rental properties