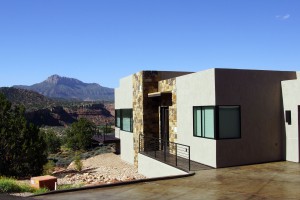 It's time for your dream home to stop only existing on your Pinterest board. We know that saving for a down payment on a home can seem daunting. That's why our local First Option Mortgage experts are here to help guide you through the process.
The good news is that whether you're looking to live in the city or in a more rural area, real estate in Utah is much more affordable than property on the west or east coasts. Additionally, here you'll find many helpful programs that are available to first-time homebuyers in Utah.  
Utah FHA loans
A first-time homebuyer searching for loan assistance can take advantage of a Federal Housing Administration (FHA) home loan. Some of the great features of this loan include less stringent credit requirements and down payment options, which can be as low as 3.5 percent.
For example, the median Zillow's Home Value Index price for a home in Sandy is currently $264,100. At 3.5 percent, you would need a down payment of only $9,244. With a smart home savings plan in place, you could save this up in a few months. For first-time homebuyers who lack equity in a current home and are working to still build their credit, this FHA loan could be ideal.
Utah USDA loans
The traffic in and around Salt Lake City might make a home in rural Utah more appealing. If that's the case, a USDA loan is a great option to consider. While you do not need to be a first-time homebuyer to be eligible, USDA loans are available to homebuyers with low or moderate incomes purchasing a home in a rural area of Utah.
A rural area usually means open country with fewer than 2,500 residents. Enter the address of the home you're considering on the USDA's website to see if the property is eligible.
Utah first-time homebuyer down payment assistance
Utah offers many down payment assistance programs for first-time homebuyers. Here's a list of options you may be eligible for depending on where you're interested in living in Utah.  

Become a Utah homeowner
With its breathtaking mountains and the "greatest snow on Earth," Utah is a wonderful place to call home. And the housing market in Utah continues to grow, making it a desirable location. It's time to make your dream of homeownership a reality. Speak with a local Utah First Option Mortgage lender about one of these first-time homebuyer programs and see if you qualify. Simply fill out our Fast Response form or give us a call at our local branch office in Sandy at (801) 285-9540.
Tags: first-time buyers, homebuying programs, Utah