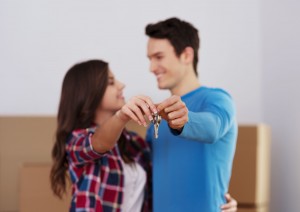 Tired of having your apartment shake every time your downstairs neighbors close their door? Are you struggling to find a parking spot in your apartment complex? It's time to invest in a home. While
saving for a down payment
can seem intimidating, many first-time homebuyers are unaware of the resources available to assist them in purchasing a home. That's why we've gathered a list of programs for you to consider as you begin the home buying process.   
Fannie Mae HomeReady
The Fannie Mae HomeReady program gives low or moderate-income buyers the tools they need to purchase their own home. Their financing is flexible, accessible, and buyers are not required to be purchasing their own home. Nontraditional credit is allowed, and buyers can have a debt-to-income ratio (DTI) of up to 50%.
Freddie Mac Home Possible
Finding the right mortgage can be a daunting task no matter who you are. Freddie Mac Home Possible seeks to pair underserved home buyers with loans that fit their situation and needs. The program accommodates low down payments from a variety of sources, terms of mortgage from 15 to 30 years, and options for refinancing.
FHA loan
A Federal Housing Administration (FHA) loan can be a great option for first-time homebuyers struggling to save enough for a down payment. With an FHA loan, you could have a down payment as low as 3.5 percent. Other benefits of an FHA loan are its less stringent credit requirements and low closing costs.
The Realtor.com median list price for a home in Atlanta is $274,000. With a down payment as low as 3.5 percent, you would only need to put down $9,590. Purchasing a home is looking a lot more feasible, isn't it? Start today by establishing a resourceful savings plan, and you could have this down payment saved in a few months!
USDA loan
If the country calls to you and you're considering living in rural Georgia, you might want to look into a USDA loan. While you don't have to be a first-time homebuyer, a USDA loan could be a good match for you if you have a low or moderate income and are looking to live in a rural area in Georgia.
VA home loan
Life in the military often requires frequent moves, which means most service members don't buy their first homes till later in life. If that's the case for you, a VA home loan is available to help service members, veterans, and eligible surviving spouses become homeowners.
Find a home in Atlanta, Georgia
First Option Mortgage headquarters is proud to hail from Atlanta, the capital of Georgia and ninth most populous city in the U.S. with over five million people in the metropolitan area. We also have branches in Smyrna and Suwanee to better serve you. If you're looking to find a home in the historic Peach State, get in touch with us using our quick response form today!
Tags: Atlanta, first-time buyers, homebuying programs