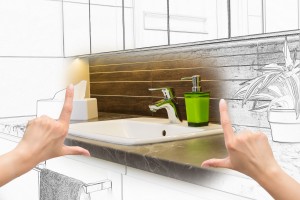 Updating the bathroom is one of those things that tends to get pushed back on the to-do list again and again. It's time to stop procrastinating and finally check that item off your home improvement list. Whether you're looking to totally renovate your bathroom or make a few
interior design changes on a budget
, here are eight helpful tips to get you started creating your dream bathroom.
1. Decide on a style
Before you run out and buy anything, it's important to decide on a style. This will help the finished product feel cohesive and complete. You have many styles to choose from, ranging from a modern minimalistic spa to a rustic farmhouse bathroom. Once you've come to a decision on what style best fits your personality, needs, and space, it's time to move on to the next step in the process.
2. Walls
The fastest way to transform a bathroom is to update the walls. Remember that whatever you decide on needs to be able to handle moisture, heat, and frequent cleaning.
Painting the walls is the easiest and least expensive way to refresh your bathroom. Simply choose your color and finish type (ranging from flat to high gloss) and get started.
Installing tile is a good option for updating your bathroom walls because it's easy to clean, waterproof, and comes in a variety of colors and patterns. However, it's more expensive than painting and can be difficult to install.
That's why shiplap walls are all the rage lately. If you want to do more than paint, but are concerned about the effort of installing tile, consider shiplap.
3. Vanity
Storage, space, and who will be using the bathroom are important factors to consider when choosing a vanity. A single vanity would work great in a guest bathroom, a double vanity would be ideal in a shared children's bathroom, and a bathroom suite with more storage space would work better in a master bathroom. Not looking to replace the current vanity? Slap on a new coat of paint or replace the vanity top for a fresh new look.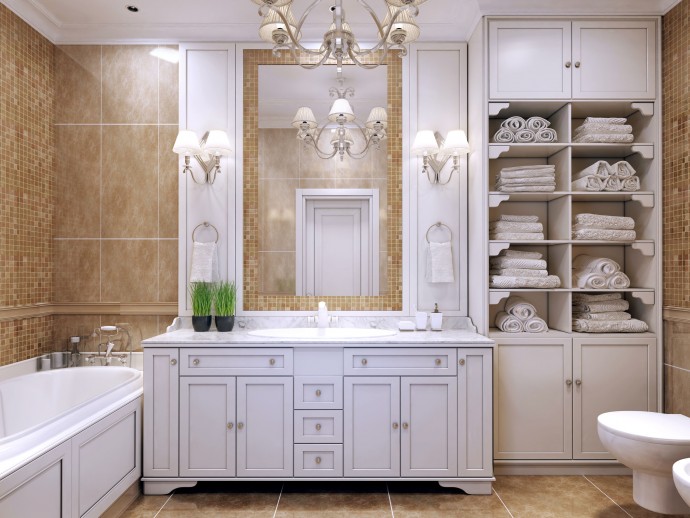 4. Tub and shower
Depending on the state of your tub or shower, all you may need here is a new shower curtain, shower head, or faucet handles. You would be amazed how these changes can take an average tub or shower and enhance the overall look and experience.
5. Lighting
The lighting fixtures in a bathroom make all the difference, and yet often it tends to be forgotten. If your bathroom currently has lighting fixtures above the mirror that cast dark shadows across the face, they should be replaced with vertical fixtures or sconces on the side to better cast an even light across the face. Adding ambient lighting is another way to enhance the lighting in the bathroom and create a more inviting space to relax after a long day.
6. Mirror
A popular way to revamp your existing bathroom mirror is by adding a DIY wood frame. If you want to replace it all together, a large mirror could become two vanity mirrors or a medicine cabinet to increase storage space.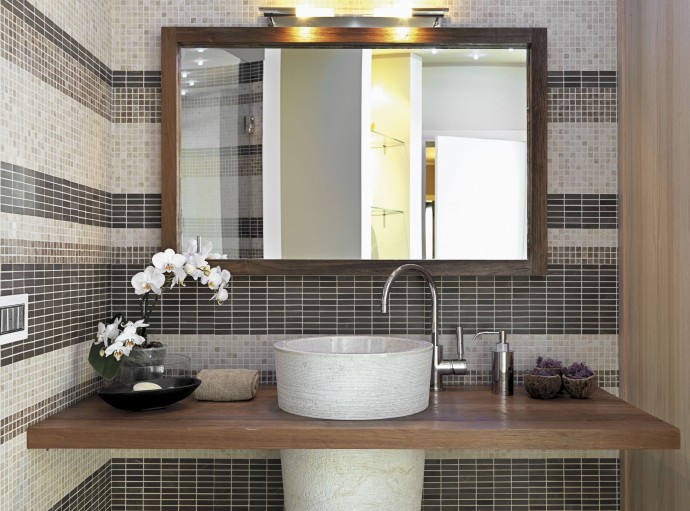 7. Flooring
You can find a variety of flooring options for the bathroom ranging from vinyl to stone. Ceramic tile is usually the surface of choice for a bathroom floor because it's easy to clean and allows for a great deal of customization. Whatever flooring option you go with, you should keep in mind that it should have a non-skid surface that's safe even when wet.
8. Extras
Now that you've gone through all the big items, you can have some fun with the bathroom accessories. Adding a bathroom rug, updating the towel racks, and picking a toothbrush holder can all add splashes of color and personality to the bathroom.
If you're interested in buying a home with more space to renovate the bathroom of your dreams, get in touch with us anytime. And don't forget to share your dream bathrooms with us on Twitter and Facebook!
Tags: bathroom, renovation, tips