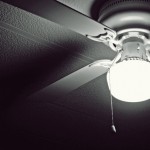 In January, you
de-cluttered for the New Year
. Now that it's spring, it's time to take it to the next level. Are there appliances or nooks and crannies that never get cleaned because you don't know how? We've scoured expert spring cleaning sources to bring you the best advice on getting those hard-to-clean items sparkling again with minimal scrubbing and zero frustration.
1. Air conditioner filter and window screen buildup
Summer is coming. That means it's time to clean air conditioners and window screens of last year's dust and pollen. It actually improves your home's air quality. The process is simple:
Vacuum off large debris and dust bunnies.

Dunk filters and screens in warm, slightly soapy water.

Scrub lightly with a soft bristle brush to remove buildup. Sprayers also work well for this purpose if you have good water pressure.

Allow them to dry before reinstalling.
2. Stay cool with clean fans
When it comes to standing or box fans, the best way to clean is to remove the grates with a screwdriver and wipe the blades with a damp cloth. The grates can be cleaned in your tub or with a hose.
For ceiling fans, use an old pillowcase (that you don't mind ruining). Fit the pillowcase over one blade at a time and slide it off the blade in one, smooth motion. This will keep falling dust contained within the pillowcase, so it doesn't fall on your face or furniture.
3. Cleaning fridge drip tray and coils
Spring cleaning likely includes the inside of your fridge. You might even scrub the drawers, handles, and outside surface. But did you know you should also clean the fridge coils and wash the drip pan? Did you even know there was a drip pan? Cleaning the coils can actually improve your refrigerator's energy efficiency. Follow the links for simple step-by-step instructions.
4. Even ice cube trays need a scrub
Though ice cube trays only contain water, minerals from the water and odors from the freezer build up over time. Combat odor by soaking your trays in a combination of vinegar and hot water. To prevent them from getting funky in the future, keep the trays sealed in freezer bags.
5. Clean coffee makers for better tasting coffee
Minerals from tap water accumulate in your coffee maker's water reservoir over time. Descaling your coffee maker can actually have a profound affect on the taste of your coffee. Fill the water tank with equal parts white vinegar and water. Run the machine with no coffee grounds, and dump the water-vinegar mixture. Run it a few more times with just water to completely rinse out the vinegar, and you're done!
6. Removing buildup on irons
Over time, iron plates collect brown deposits that can transfer to clothes. The iron isn't rusted; all you need is a little vinegar and baking soda to restore it. With the iron turned off, rub the plate with a vinegar-soaked towel. Lay a clean towel across your ironing board and sprinkle baking soda over it. Run the iron over the towel as if you're ironing it.
Heavily soiled irons might need to sit in the mixture for a few minutes. When the gunk is loosened, just wipe it away. To get the baking soda out of the steam vents, turn on the steam setting and iron another clean towel. Like new!
7. Deodorizing a stinky yoga mat
Technically, you can wash yoga mats in both front-loading and top-loading washers — as long as you can fit them in the drum. However, this can easily rough up their soft PVC surface. A gentler approach is to soak it in your bathtub with mild dish soap for an hour. Once the stains and smells have released, rinse and hang to dry.
8. Breathe easy with clean bagless vacuum filters
If you have a bagless vacuum cleaner, you're probably used to seeing dust caked onto the reusable air filter. This affects both air quality and energy efficiency. But, do you know how easy they are to clean? All you need is a dishwasher! Put your vacuum cleaner filter in the dishwasher by itself — don't run it with dishes. Let it dry in the windowsill for a couple of days. It's that easy.
It only takes one weekend to tackle all these tasks. You'll be happy when your home sparkles, and you know these often overlooked items are truly clean.
Did we miss anything? What common household items do you clean with ease? Tell us on Twitter and Facebook! And for those of you looking for a new home, contact us. We'd love to help you move into your dream home!