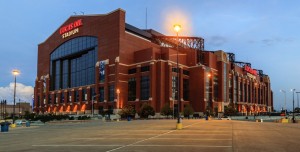 Every time you move to a new city, it takes awhile to learn your bearings. Moving to Indianapolis is no exception. It can take months to learn the best routes between your home and work or grocery stores, or which Indiana highways you should take. A great way to acclimate quickly to a new metropolitan area is to make a bucket list of the best spots to visit in the city. If you're new to Indianapolis and need to learn the city quick, make sure to visit these eight great attractions.
1. Oktoberfest at German Park
Every year, the German American Klub of Indianapolis hosts Oktoberfest. Don't let the name fool you: The festival isn't in October. In 2014, Indianapolis Oktoberfest begins the weekend of September 4-7 at German Park. Cultural music, activities for the kids, and of course great German beer will be available at this fun festival.
2. The Indianapolis Children's Museum
With over 120,000 artifacts and hundreds of exhibits and activities kids of all ages can enjoy, the Indianapolis Children's Museum is the biggest (and, many would argue, best) children's museum in the world. It's a great place to take your family or friends who have kids.
3. Lucas Oil Stadium
Football preseason just ended, which means you've picked a great time to move to Indianapolis if you're a Colts football fan. The 2014 schedule has plenty of home games to choose from—or if you're just interested in the stadium itself, public tours are available every Tuesday and Wednesday.
4. Indianapolis Zoo
The Simon Skjot International Orangutan Center recently opened at the Indianapolis Zoo, attracting ape enthusiasts and tourists from all over the world. Of course, the zoo has more than just primates, housing animals of every shape and size. Located at White River State Park, the many exhibits and surrounding park facilities are worth a visit.
5. Eiteljorg Museum of American Indians and Western Art
Also at White River State Park is the Eiteljorg Museum, offering a variety of western art galleries and exhibits about the history of the native people of what is now Indiana. New residents of Indianapolis, especially history buffs, will find the information and art illuminating. The museum provides a rich picture of the state.
6. Indianapolis City Market
Missing your old farmers market? Look no further than the Indianapolis City Market, which features a huge selection of booths with local produce and artisan food. Located in historic downtown, visitors to the market can pick up great food and continue exploring the heart of Indianapolis.
7. The Fashion Mall at Keystone
Indianapolis residents can enjoy great shopping throughout the city. You'll find some of the best brands and retailers at The Fashion Mall at Keystone, as well as a comfortable movie theater. It's a good place to visit if you need to furnish a new home or update your wardrobe.
8. The Indianapolis Cultural Trail
If you love immersing yourself in the culture of a new place, the Indianapolis Cultural Trail is a gorgeous and fun way to get to know your city better. With art projects, bike racks, and delicious food along the way, this 8-mile paved bike and pedestrian path will connect you to all the best parts of downtown Indianapolis. Walk the whole stretch in a Saturday, or tackle sections of it with your family to experience the city together.
If you've just moved, or are about to move, to Indianapolis, you've picked a great city to call home—and visitindy.com has even more attractions you should visit.
Whether you're wanting to buy a home or refinance, our local branch is here to help you learn more about Indianapolis mortgage rates. Simply fill out our Fast Response form or call us at (317) 713-9500. Our experienced mortgage professionals would love to sit down and discuss your needs. We look forward to hearing from you!
Tags: best time to buy a home, first time home buyer, house hunting, Indiana Mortgage, Indianapolis Home Loan, indianapolis mortgage