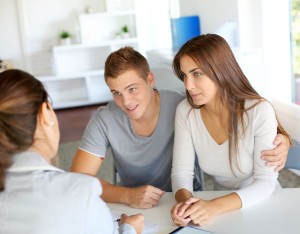 Shopping for a mortgage should be the first step you take when looking for a new home. This will give you an idea of the price you can afford and which Las Vegas neighborhood you can explore. It will also show sellers that you are a serious buyer and can be used as a negotiating tool when you make an offer.
Similar to looking for the perfect home, finding the perfect Las Vegas mortgage lender can involve kicking some tires before you settle on one you feel comfortable doing business with.
Here are some questions you can ask to narrow down your search and help you find the right loan officer for the job:
1.  Which mortgage do you think is best for me and why?
Are you a first time homebuyer? Are you moving from another home in Las Vegas or coming from out of state? What is your financial situation? Have you ever been in the military? These are all questions that can have an impact on the type of loan you may qualify for so it is important that your loan officer takes the time to get to know you before offering you a loan.
2.  Are you licensed to provide a Las Vegas mortgage?
This may seem like a no brainer, but Mortgage rules differ from state to state and the lender must be licensed to offer a mortgage in the state of Nevada. This is particularly important to ask if you are getting a quote from an online lender.
3.  What are your rates, terms, fees and closing costs?
Fees vary from lender to lender, and may include application fees, loan origination fees, points, appraisal fees, inspection fees, attorney's fees and more. It is important that you have a breakdown of what you will be charged to make an apples-to-apples comparison with other mortgage quotes you receive while shopping around.
4.  How long will the process take?
Your loan officer should be able to give you a fair estimate of how long it will take to fund the loan. Providing you have handed over all of the needed documentation ahead of time, processing will typically take anywhere from 7-10 days. If the lender expresses a wait time of much longer, you may not be receiving the attention you deserve.
5.  Is there a pre-payment penalty on the loan?
Pre-payment penalties are especially prevalent on sub-prime loans, which were particularly popular in Las Vegas during the housing boom.  You do not want to get stuck in a loan that you will be paying penalties on if you decide to sell your home or refinance before it is fully paid off.
6.  Will my loan be sold?
It is not uncommon for a loan to be sold to another financial institution or investor. Be sure to find out if you will be making payment directly to the Las Vegas lender you are working with and if not, who you will be making payment to.
7.  Will taxes and insurance be included in the monthly payment?
Including your taxes and insurance will change what is due monthly for your mortgage payment. Nevada's property tax is based on just 35% of the fair market value of your home, much less than other states, but depending on the homes value, property tax on a Las Vegas home can still run into the thousands.
Once you have found a mortgage company that you are comfortable doing business with and a loan officer that you know is working in your best interests, you can feel confident going out and shopping for your dream home!
If you are interested in speaking with one of our Las Vegas mortgage specialists or are interested in getting more information about the loans we offer, simply fill out our Fast Response form or give us a call in our local branch office located at (702) 669-5400. Our experienced mortgage professionals would love to sit down and discuss your needs. We look forward to hearing from you!
Tags: best mortgage broker, first option lending, first option mortgage, house hunting, Las Vegas Home Loan, Las Vegas Mortgage, mortgage broker