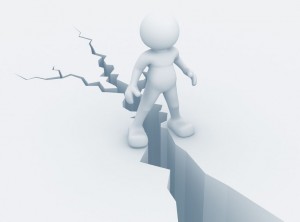 Accidents happen, which is why homeowners insurance is so essential to protecting your property. Your house is your home, but it's also your investment. In the event of an emergency, you need to preserve the money, time, and care you've put into it. Every homeowner should have insurance, but they should also be aware of the things that homeowners insurance doesn't cover. We've assembled seven things that don't fall under standard coverage.
1. Earth Movements
Homeowners insurance doesn't cover damage caused by an earthquake, sinkhole, or any other seismic event. In many places in America, this may not be a huge concern, but on the west coast, where fault lines lie, damage can and does occur to homes. If you live near seismic activity, you may want to consider buying special earthquake insurance.
2. "Other Water Damage"
Most policies cover water damage, but there are a number of exclusions. Mudslides and flooding as a result of another natural disaster usually fall outside standard coverage—as does damage caused by sewage backup.
3. Windstorms
Like earthquakes, many Americans never have to worry about windstorm damage, but if you're in the northeast or along the Gulf Coast, it's a common hazard. Windstorms can destroy roofs and landscaping, and they're usually not covered by homeowners insurance.
4. Acts of War
In the event of a terrorist attack, your home won't be protected. Typical policies protect your home against riots and vandalism, but they exclude damage caused by nuclear hazards or acts of war.
5. Luxury Items
Homeowners insurance usually covers jewelry and fine art collections up to $1,000. Because most engagement rings cost more than that, standard coverage has significant limits. If you own a nice piece of art or possess a significant amount of jewelry, you may want to purchase a luxury home insurance policy.
6. Diseased Plants
Landscaping is generally covered against theft, fire, and falling aircraft—but not wind or disease. It can be risky places to invest thousands of dollars into landscaping and exotic plants. You should also be vigilant about keeping your plants healthy.
7. Neglect
Your policy will likely have many exclusions, listing out damages caused by neglect. These include termite and other insect damage, mold, normal wear, and unprotected exposure to the elements. You must be proactive about inspecting for animal damage, cleaning damp areas, and treating outside wood. If not, you'll have to pay for any damage yourself.
If you're interested in purchasing, refinancing, or learning more about mortgage rates, simply fill out our Fast Response form. Our experienced mortgage professionals would love to sit down and discuss your needs. We look forward to hearing from you!
Tags: Everyday Living, first option mortgage, first time home buyer, Home Loan, home mortgage, house hunting