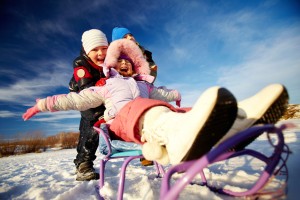 Seasonal Affective Disorder affects many Americans, whether they realize it or not. When cold weather and clouds roll in, moods often change, gradually, subtly, as the season continues. If you've been living in a chilly, overcast area for a few weeks or months, you may be feeling some of the effects by now. To help you fight some of the winter blues, we've compiled six easy activities anyone can try this season.
Exercise
Many of the adverse effects of winter stem from cabin fever, being stuck inside by bad weather. This often leads to feeling lethargic, which can make anyone blue. Exercise is the simplest solution to this, even when it's too cold to go outside. Most gyms offer month-to-month memberships, giving you a place to work out until the temperature improves. You don't even have to leave your house, though. Many yoga and video workout routines afford the same results—and even a few dozen pushups can increase your heart rate and strengthen muscles.
Eat Veggies
Most people are drawn to stews and breads after a frigid day. These heavier and most processed foods taste great, but they can drain your body of energy. Eating fresh fruits and vegetables, even during the winter, will stimulate your body and mind and stabilize your blood sugar levels.
Seek out Vitamin D
Even if you don't live in an especially cloudy state, with shorter days, you may not be receiving the amount of Vitamin D your body needs. As a result, your mind and body can feel sluggish. Seek out this essential nutrient any way you can—whether it's taking a quick walk on your lunch break or buying supplements.
Adjust Routines
The tiniest adjustments to your daily patterns can keep your mind alert and animated. Take a slightly different route home every day from work; read a book instead of watching television a few nights a week; try your hand at some exotic recipes. These changes operate like mental exercises, which help you avoid slipping into melancholy.
Treat Yourself
Not everyone can afford a February vacation to Hawaii, but having little indulgences to look forward to can keep anyone motivated through dreary days and weeks. Coordinate a weekend getaway with some friends who could split the price of a cabin or condo, or plan little dates for yourself to see movies or visit restaurants you've wanted to. Adjusting your budget to allow these mini-luxuries can be worth the cost of remaining cheerful throughout the season.
Enjoy the Weather
It's easy to long for the beach, hiking trails, and barbecues during the months too cold for them, but this can quickly lead to discontentment, which prompts the blues. Rather than focus on the detriments of winter, focus on the opportunities. Try cross-country skiing, or ice skating at a local rink, or just bundling up and walking downtown with a hot cup of cocoa. Relishing in the charm of winter will improve your mood, helping you enjoy it until the warmth of spring and summer arrives.
If you're interested in purchasing, refinancing, or learning more about mortgage rates, simply fill out our Fast Response form. Our experienced mortgage professionals would love to sit down and discuss your needs. We look forward to hearing from you!
Tags: Everyday Living