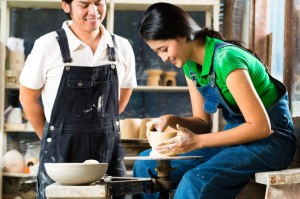 For some couples, Valentine's Day is as important as a wedding anniversary. Others view it as just another day. For most Americans in a relationship, though, it's an excuse to treat each other a little more specially than normal. Whether Valentine's Day is a big deal for your partner or not, you may be feeling some pressure to concoct the perfect date. If you need some inspiration before Tuesday, consider taking the special person in your life out on one of these unconventional dates.
1. Reenact a Favorite Movie
Is there a film you both love, or a movie you saw on a first date that still conjures up warm memories? Replicate a scene or moment from it—as simply or elaborately as you wish. If a couple in the movie did something interesting together, try to take your date on a similar excursion, or if characters visited a landmark near you, visit it too, and rent the movie to watch later.
2. Head to a Poetry Reading
Poetry is the most romantic genre of literature, but not everyone is a bard who can write their own verses. Going to hear a poet read, though, can still be a passionate experience. If there's a reading on Valentine's Day in your city, the poets will probably choose their most love-filled work, which will set the right mood for your evening.
3. Make Each Other Gifts
Nearly every city in America has paint-your-own-pottery shops and eat-while-you-paint diners. These are a fun alternative to a normal dinner out, even if neither one of you is very artistically inclined. Take your date to one of them, and agree to give each other what you make. They might not be the most beautiful works of art, but they'll make for lasting memories for the future.
4. Find a Spa
Relaxation is its own kind of romance, especially when couples go together. Find a local spa and schedule a couple's massage. Since Valentine's Day falls on Friday this year, this can be the perfect date for the end of a long week—and it automatically removes the stress of planning and making the day exceptionally special.
5. Stargaze
Even if it's cold outside, if the weather and cloud coverage allows, drive out to the country with plenty of blankets and a romantic spread, including something warm to drink. Stargazing can be a romantically contemplative experience, and it makes for more lasting memories than an expensive dinner.
6. Celebrate with Friends
It may be a couple's holiday, but you don't always have to celebrate Valentine's Day by yourselves. If you're close to a couple, or if you have friends you love but rarely see, use the holiday as an excuse to spend time with them. The celebration can be just as special, and you'll still have time to yourselves after dinner—or whatever you decide to do as a group.
If you're interested in purchasing, refinancing, or learning more about mortgage rates, simply fill out our Fast Response form. Our experienced mortgage professionals would love to sit down and discuss your needs. We look forward to hearing from you!
Tags: Everyday Living, first option lending, first option mortgage