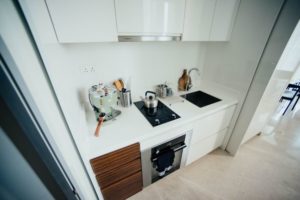 Last month,
we shared an infographic
with you showing six renovations that increase your home's resale value and six that don't. Since summer is coming to a close, we thought we'd revisit it in case you're trying to give your home a last-minute facelift. Whether you've decided to do some much-needed repairs, you're getting ready to sell your home, or you've decided to
put some elbow grease into a fixer-upper
, these tips will help you earn a higher return on your investment.
Instead of converting a bedroom, replace the siding
Converting a bedroom into something else might be a short-lived endeavor. The next person to live in the home may decide to turn it right back into another bedroom. Think about your home's curb appeal instead and replace old siding, which could contribute to a 10 percent loss in your home's value.
Instead of a pool, keep your lawn manicured
Speaking of curb appeal, a nice lawn can do wonders and increase your home's value by nearly 15 percent. Dust off the lawn mower or hire some landscapers — just make sure someone with a green thumb does the grooming.
Instead of laying down carpet, choose hardwood
It may surprise you, but a home with hardwood floors is the top request from new buyers. The good news is that both traditional and engineered hardware provide excellent returns — around 75 percent!
Instead of converting a garage, consider an additional bathroom
When deciding which spaces to convert, it helps to consider how much you're spending and how much you'll regain. Converting a garage is appealing, but adding an additional bathroom can increase the value of your home by 20 percent.
Instead of high-end accessories, pick a nice front door
Sound too simple to be true? Replacing your front door is one of the cheapest projects you can do and adds great curb appeal with very little maintenance. And here's the best part: The average return rate is a whopping 98 percent!
Instead of a sun-room, get a deck or patio
Sunrooms look nice, but they're difficult to heat and cool and can be expensive to build. A deck or patio will offer similar benefits — along with fresh air — and yield an average return of 81 percent.
Summer's almost over and home improvements will soon go on the back burner. Even though we can't help you with the physical labor, we can help finance the renovation that's sure to get you a good return on your investment. Apply today!