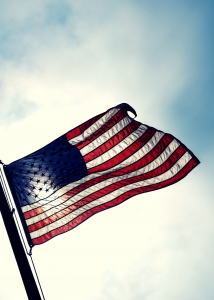 Once a year, July 4th comes around as an opportunity for you and your family to celebrate all that's great about the United States of America. Some people might treat the day as a get-out-of-work card,  but it's also important to remember those that served to defend our country. To do that, celebrate America's independence this Wednesday with one (or more) of these options on our list!
Go to a Parade or Firework Show
While watching fireworks can be a fun way to spend your Fourth, they aren't always safe, especially with much of the dubious manufacturing firefighters have warned about this year. If you have children who are afraid of the loud popping sound that doesn't mean your 4th of July is ruined! Parades are fun and plentiful, with every town in the U.S. having multiple events to celebrate the day. It's an opportunity for the whole family to relax, enjoy the sights and sounds, and meet your local veterans. Just make sure to bring your sunscreen—it is summer, after all!
Go Camping
What better way to celebrate our independence than roughing it out in the wilderness, just like our forefathers? Whether right in your backyard or in one of America's beautiful national parks, camping is an inexpensive activity that the entire family can enjoy!
Donate to the VFW Buddy Poppy program
The Veterans of Foreign Wars ask for donations around the year, with special programs like their Buddy Poppy program every Memorial Day. Remembering and honoring the veterans that risk their lives is truly a great and heartfelt way to celebrate July 4th.
Host a Barbeque or Potluck
Independence day stands the test of time as a fantastic day to entertain. If you live nearby to a fireworks display (or you live in an area where hosting one of your own is legal), hosting a party can serve as a fun way to spend the day. Supplying food, drinks, and fireworks can prove costly, so turn your 4th of July party into a potluck if you're still in the mood but don't wish to break the bank!
Learn about the American flag
Do you know how to fold a flag? What do the stars on a field of blue mean? July 4th is a great time to learn more about your good pal Old Glory. Get the whole family involved as you turn an educational event into a Jeopardy-style gameshow for your kids, or just peruse to learn more about our shared cultural heritage.
And don't forget to show off some of that red, white, and blue! Hang a flag in your yard or near your door.
Send a soldier a care package
While remembering our Veterans, be sure to also support to troops who are currently serving in the military. You can send a care package to a soldier with the help of websites like Operation Gratitude or Any Soldier. Creating the care package yourself can be a great opportunity to do some fun shopping or baking with the kids, and can also be a great teaching moment!
First Option Mortgage thanks all members of the United States Armed Forces and their families for their sacrifice and service to our country. Do you have any patriotic plans or ideas? Let us know on Twitter or Facebook, or contact us directly today!