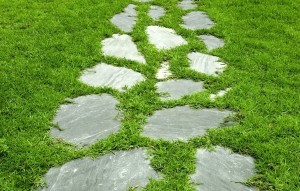 Whether you're preparing your home for sale or ready to settle in and nest, a great backyard can really boost curb appeal and contentment. Getting that backyard requires a little effort, but not more than any homeowner can handle. Try your hand at a few of these doable DIY projects for a great outdoor space.
1. Paver Patio
If you've always wanted a backyard patio for grilling or entertaining, you don't have to pay a professional to build it. Paver patios have become one of the most common DIY yard projects, and any home department store can guide you in the materials you need to buy and how to assemble them. It might take a few weekends to level the ground and then lay landscape fabric, gravel, and sand, but you can usually put down the pavers themselves in an afternoon.
2. Washtub Planters
Flowers planted around the house are pretty, but for a more homey and rustic feel, consider building washtub planters. Flea markets and consignment shops are abound with old metal washtubs, and with a handheld drill you can turn them into planters in just a few minutes. Drill holes in the bottom for drainage, add a shallow layer of gravel, and then fill up with dirt and flowers or small shrubbery.
3. Stone Pathways
Building passageways in your yard—from the front to the back or to sheds—makes the whole space more functional. Buy stones, either molded from concrete or cut at a mill and space them out to accommodate a child's stride. Use a shovel to cut into the dirt all around them, then put the stones off to the side and remove the full section of sod. Make sure it's level, then put the stones back in, and you're done!
4. Deck Staining
Most decks require yearly or biannual treatment, but staining or repainting can make the whole thing look brand new. Choose a stain or color that complements but doesn't exactly resemble the color of your home, and devote an afternoon to painting. You can do-it-yourself or conscript family and friends to help. With a few cold drinks and music, the job can go by in no time.
5. Raised Garden Box
You might not have time to tend to and plant vegetables and flowers throughout the year, but a small raised garden box is an easy DIY project that beautifies your yard and provides you with fresh produce. Choose an area alongside your home or porch, and assemble a frame with two-by-fours and four-by-four corner segments on a flat area—usually your garage or driveway. Waterproof the wood, then lay it in the designated area and install a mesh lining at the base and pipes on the sides, in case you ever want to cover it in winter. Then fill with a mix of compost, topsoil, and planting soil, and you're ready to garden!
6. Fire Pit
Want a warm place to congregate in the cool fall evenings? Fire pits are a great DIY addition to any outdoor space. Prepare a wide base for sitting around the central pit, and clear out the topsoil in the full circle. Lay a base of premixed concrete, and then begin laying the stones or bricks with mortar. You may want to change the material for the top capstone. Once this is all done, spray the inside of the pit with a black stove paint, add seating, and you're ready to roast!
If you're interested in purchasing, refinancing, or learning more about mortgage rates, simply fill out our Fast Response form. Our experienced mortgage professionals would love to sit down and discuss your needs. We look forward to hearing from you!
Tags: 2014 Housing Trends, Everyday Living, house hunting, housing market statistics, Real Estate