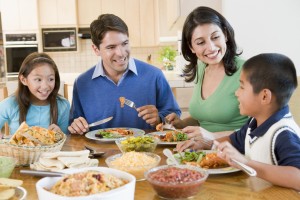 With food costs on the rise and increasingly busy family and work schedules, making healthy and budget friendly meals can seem impossible, but with the right planning and some creative shopping, making an affordable, tasty and healthy family feast is absolutely doable!
Plan
Look through the local grocery ads and coupons for what is on sale and then begin planning out your meals for the week in advance based on what is on sale.  Next you will want to make a grocery. Impulse buys at the store can be a real budget killer, so make sure you are sticking as closely to your list as possible.
Buy in Bulk
Single serving packages are almost always more pricy than their bulk counterparts, so if you have household favorites that you go through quickly and are regularly running out of, look for it in the bulk section to save some cash.
Strike a Balance
Splurge on a few ingredients and penny-pinch on others. This will allow you to be creative with your meal planning without breaking the budget
Substitute
There are many cheaper substitutions that can be made for some of your common meals. You can also consider meatless entrees that will be less expensive than a animal protein heavy meal. Here are some substitutions to consider incorporating as a budget friendly alternative.
Spaghetti Carbonara
Less costly than Spaghetti and Meatballs, Spaghetti Carbonara calls for eggs, bacon and Parmesan and only costs around $9.00 for a family of four.
Eggplant Parmesan
A healthier and less expensive alternative to Lasagna, Eggplant Parmesan replaces the meat in Lasagna with thin-sliced layers eggplant
Breakfast for Dinner
Eggs are an excellent and cheap source of protein. They are equally as delicious for dinner as they are for breakfast. Here's some creative ideas for your next "Brinner."
Make Big Batches
Making a big batch of soup, casserole, pasta, or stir fry can last for days and save on not just your dinners, but your lunches too if you brown bag for work or school the next day.  Better yet, use a crockpot and let it do all the cooking for you while you're away! Chili, Tuna Casserole, and Chicken Pot Pie can all be made ahead and make super tasty leftovers.
Look for Savings on the Internet
Myrecipes.com has thousands of recipes, from quick dinner recipes and budget menus to healthy diet selections, and even has a feature that will show you what items in the recipe are on sale in your zip code. Also, many brands offer coupons for their products on their website and Facebook page. It is worth getting online and checking out your favorite brands to get some good savings.
Try some of these tips and see how much you can shave off your weekly shopping budget!
If you're planning to purchase, refinance, or learn more about mortgage rates, simply fill out our Fast Response form or give us a call at 888-644-1999.  Our experienced mortgage professionals would love to sit down and discuss your needs. We look forward to hearing from you!
Tags: Everyday Living, first option lending, first option mortgage, money saving tips