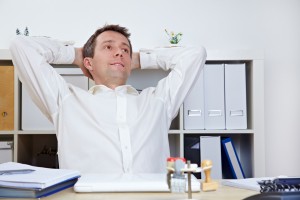 Preparing your taxes can be one of the most stressful events that occur perennially. There's no avoiding it and sometimes the sense of impeding responsibility combined with the realization you may owe money can cause an undo amount of stress in your life. Here are five tips to help you avoid tax time stress and be prepared for managing and filing your taxes efficiently and stress free.
1. Find out what has changed
With so many changes on the federal level, from the health care reform act to the fiscal cliff deal, trying to keep up with it all can be a little daunting, but being aware of the impact these changes will have on your life and finances will give you a leg-up when it comes to making sure your paperwork is in order and you are taking advantage of as many deductions and credits as possible in the current tax code.
2. Know before you file
You don't have to wait until April 15, 2013 to get a rough estimate of what you may owe or what may be owed to you. Using online tools periodically over the course of the year can help you anticipate what your filing will look like come tax time and reduce the unwanted stress of the unknown.
3. Don't panic if you owe
Underestimated your tax burden a bit? It's okay if you can't pay all of what you owe immediately. As long as your returns are filed on-time, for most tax debts, you can set up an IRS installment agreement online and spread your payments out over a number of months or even years if needed.
4. Get professional advice
If you are filing a long form, it is well worth it to have a professional complete your taxes for you. Not only will it reduce your stress level because you will have the peace of mind that an expert prepared them for you, but a CPA will have a much better handle on changes that have been made to the tax code and ways to lower your taxes that you may not be aware of. Taking full advantage of tax deductions and credit can lower your tax burden significantly.
5. Start getting organized for 2014 now
While your rounding up all of your needed documents for 2013, it is worth preparing a list of the same documents you can expect to need in 2014 and add them to your 2014 file as you go. Begin keeping track of your donations and start adopting better organizational habits going forward. Think how much easier and less stressful it will be next year!
Remember, stress can only really affect you if you let it. Keep the big picture in mind and take measures to reduce your tax time stress throughout the year. That way when April 15th roles around again next year, you can breath an easy sigh of relief.
If you're planning to purchase, refinance, or learn more about mortgage rates, simply fill out our Fast Response form or give us a call at 888-644-1999.  Our experienced mortgage professionals would love to sit down and discuss your needs. We look forward to hearing from you!
Tags: Everyday Living, first option lending, first option mortgage, homeowner tax credits