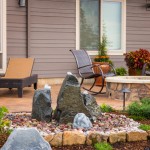 The most often overlooked living space is easily the backyard. Maybe you throw a great barbecue a few times each summer and play a little soccer with your kids out back each spring and fall, but you could be doing so much more with your yard! If you have a big patch of patio or grass behind your house that's just sitting empty, you're wasting some great living space.
Put a roof over your head
First, add a little cover to your outdoor space. You'd be amazed how big a difference a shield will make, even when the skies threaten rain (or snow!).
When it comes to the type of covering you choose, a solid ceiling has some big advantages, including the ability to add luxuries like ceiling fans. If your summers are hot and humid, you'll relish the relief an outdoor ceiling fan gives you on sweltering days. If you're not ready to spring for a permanent ceiling — and the wiring required for an electric fan — consider an awning. They're removable, and many even come with motors so setting up and stowing requires very little work.
Choose all-weather seating
How you design your outdoor living space will vary quite a bit, depending on where and how you live. But no matter what the forecast says, if you want to get the most out of your backyard, you'll need some elegant outdoor seating.
When looking for year-round outdoor furniture, look for comfortable covered seating that can handle getting a little wet yet dries out fast. Plastic seating has come a long way. While it used to look cheap, resin furniture is often beautiful, elegant, and easy to keep clean.
Stay clear of untreated wood, which will soak up water, warp from the moisture, and get you wet if you try to sit on it after any rain or snow. If you choose to go with bare wood furniture, you can treat it yourself with a weatherproof stain. And don't forget the weatherproof cushions.
Add some light
The key to creating an outdoor space with a cheerful, warm ambiance throughout every season is to get serious about lighting. The great thing about good lighting design is that it can do more than provide light: put it to work as a way to highlight your favorite backyard features. Have a beautiful tree? Wrap string lights around it! Check out these creative uses for rope lights. Or if you're a DIYer, get crafty with these tin can lanterns, or these wine bottle tiki torches.
And a little warmth
Great lighting might add a warm ambiance, but in order to truly enjoy your backyard through the colder months, you're probably going to need a literal source of warmth. You can go about this a few ways with either fire or electric heat.
When it comes to electric heat, you can go with infrared heaters (which heat objects and people rather than the space itself), propane heaters (which offer more portability), or electric heaters (which are essentially just weather-resistant space heaters).
If you decide you want to go with the more romantic and primitive way to get warm (fire), you have essentially two options: a fire pit or a chiminea. While chimineas are beautiful and help keep fires more contained, they're more fragile than a traditional fire pit. You have to keep chimineas out of rain and snow, so many homeowners in wet climates find they're more work than they're worth.
Now that you have an overview of the various options available to turn your plain, old backyard into your favorite room in the house, you'll have to decide what's right for your climate and your needs. Your options are infinite and your outdoor living space should reflect who you are. Get creative and have fun with it!
Have you built a great year-round outdoor space in your yard? What's your favorite feature? Tell us on Facebook or Twitter! And if you're looking for a new backyard to deck out (with a house attached to it), get in touch!
Tags: Everyday Living, Gardening, homeowner