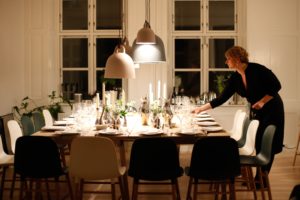 It's done. The house is the way you want it. Now it's time to have people over to show it off! It's always nice to have friends over for a good time, and there's no better way to draw a crowd than with a good party. Here are some great party ideas to bring in the happy crowds.
A woodfired Italian pizzeria
Take advantage of the beautiful stone oven you built in your backyard, or set up a bowl grill to bake some delicious pizzas. This party idea can take advantage of a spacious backyard or a rustic dining room and entertaining space. Make sure you get a great playlist figured out for the evening, too (we suggest a Verdi opera or some Sinatra).
Breakfast for the ages
Breakfast is the greatest of meals. In fact, it's so great you can have it any time of day. Many fond childhood memories are formed during a good ol' fashioned breakfast-for-dinner.
For this sort of party, quantity is key. You need tureens of eggs, baskets of bacon, mounds of muffins, piles of pancakes, and waffles with pools of syrup. Need some ideas to get started? Check out this list for inspiration.
The legendary cocktail bar
You've spent a lot of time remodeling your kitchen or a spare room to accommodate a new island or bar, and now's your chance to use it. Prep a drink menu in advance, and prepare a little soirée for your guests where they can dress fancy and "order" drinks from the host. And if you're feeling extra cheeky, set out a tip jar.
A Holmesian mystery theater
A murder mystery party can be a great time, and you don't have to hire a troupe of actors to do it. You just need guests and some costume ideas. Check out this guide to planning the party, and make sure to show off the best aspects of your home.
Pump up the jam
Everyone likes a dance party. Push back the furniture in your living room, set up some speakers, and prepare to enter a world of dance with your closest friends and family. Where does the dinner party come in, you ask? It's a little decadent, but nobody will complain about eating an entire meal composed of hors d'oeuvres, treats, and snacks.
We hope you've enjoyed this list of dinner party ideas. If you've got a great idea, share it with us on Facebook or Twitter. And if all this party talk is getting you excited about purchasing a home of your own, contact us and we'll get you started down the road!
Tags: first time homeowner, homeowner tips, homewowner advice, new homeowner