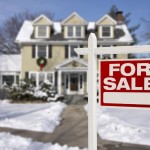 Let's be honest: Moving is a pain. It's exhausting, expensive, and stressful. It forces you to confront any lingering pack rat tendencies, all the while needling away at your patience and testing your relationships. But there are ways to make the process better. You can save money, prevent buyer's remorse, and get better service by moving in the cold. Here are the top five reasons you should consider moving in the chillier months.
The price of the house itself
Housing prices drop in the winter. No matter where you live, listing prices dip in the winter and climb back up in the summer. By starting the house hunting process now, you can stretch your money further or consider neighborhoods or houses that would be out of your reach in the warmer months. Granted, there tend to be fewer houses on the market in the winter, but the lower prices will more than make up for a smaller selection.
By the way, housing prices are just as seasonal in climates that regularly experience t-shirt weather in January. So if you live in, say, Florida or Texas, you won't miss out on those great winter deals.
Gas prices are lower, too
If you're moving long distance, you'll notice a big difference in the cost of driving to your new home when you choose to relocate in the winter. Gas prices hit their annual peak in the summer when everyone and their sister is on a road trip. Prices fall steadily with the temperature, starting in September and continue through the cold season.
You'll see the property for what it is
Househunting may be more fun in the summer when the weather's nice, but meeting your new house for the first time in the winter allows you to get a better picture of what living there will actually be like. Common upkeep issues, like leaky roofs and freeze-happy pipes, happen more often in the winter. While homeowners who buy and move in the summer often discover a whole host of problems months later. Winter buyers have the chance to see issues long before they've signed any papers and packed up.
Movers work harder for your business
Since moving is more common in the summer, moving companies often find that their calendars are empty by the first snowfall. If you're looking to save money on your move and you'd like to hire professionals to help with the heavy lifting, opt for winter. Not only will you get a better rate right away, you'll also have room to negotiate every aspect of your move, including the price, included services, and the day of your move.
It's a fresh start in the new year
There's no denying that the new year brings feelings of optimism and possibility. There's an energy in the first few months of the year that summer and fall just can't match. Everything feels possible and everyone seems to be making changes in their lives. Moving is a wonderful way to launch that fresh start. By combining the new year and your move, you can start your new life in your new home when your energy and ambition are at their highest.
Have you ever opted to move in the winter? How did it go? Join us on Twitter or Facebook and share your experience! And if you're in the market for a new home, get in touch! We have branches all over the country.