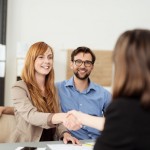 Choosing a loan officer is a big deal. When choosing someone, you might wonder whether the person you're talking to truly knows the industry and has your best interests at heart. Here are a few questions you can ask originators to ensure your homebuying process is as smooth as it is exciting.
Can I get references?
You can't always find the best loan originator through friends and relatives (though it's never a bad idea to ask around). Feel free to request references. Your loan originator should have a long list of satisfied clients, and any hesitation to provide you with even a handful of references is a red flag. Choosing an originator is as much about matching personalities as it is choosing someone competent. By getting the inside scoop from clients, you'll have a more complete picture of what the homebuying process will be like.
How are you licensed?
Loan officer licensing differs quite a bit from state to state, so by asking your prospective originator about their licensing, you're opening up the conversation to talk about their experience, education, and what services they're offering. Before you go in and meet your loan originator, do a little research on your state's requirements so you'll know how each prospective originator measures up.
How do you handle rate locks? What does it cost?
Rate locks guarantee a specific rate for a short period of time — usually 60 days or less — between when the offer is accepted and the purchase is closed. Rate locks are a gamble for both the borrower and the lender, and different companies handle rate locks differently. It's well worth exploring how any prospective originators approach rate locks.
What is the par rate on this loan?
The par rate is the rate that would neither cost the originator money nor make them money. This question is good to ask for two reasons: first, to make sure your prospective originator knows the business. This is a number they should be able to rattle off without hesitation. Second, it's good to know the difference between the par rate and the rate you'll be asked to pay.
Anything else I should know?
These kinds of questions are possibly more important than any other kind in this situation. Asking open-ended questions leads to ones you didn't even know you wanted or needed to ask. It will open up the conversation and encourage a more casual, conversational interaction.
These are just jumping off questions; once you begin to get to know your prospective originator, you'll (hopefully) have many more. A good loan officer welcomes questions and is eager to take the time to work through all your concerns.
We want to hear from you! What questions did you ask before you signed on? Join us on Twitter or Facebook and let us know. And if you're looking for a new home, contact one of our loan originators at one of our many branches all over the country!
Tags: best time to buy a home, first option lending, first option mortgage, first time home buyer, home mortgage, house hunting, mortgage education