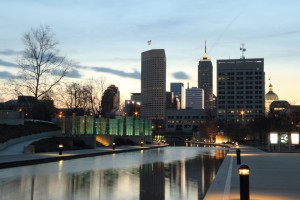 Moving anywhere can be daunting, especially if it's someplace totally new. With its low cost of living, strong job growth, and steady migration, thousands of people are moving to Indianapolis every year. If you're one of them, we've gathered 5 must-knows to make the transition a smooth one.
1. Prepare for Four Legitimate Seasons
The weather in Indianapolis, like in a great deal of the Midwest, changes every few months—or weeks, or hours, depending on the time of year. Summers become hot, hovering around 90° with humidity, and temperatures in the winter can dip below 0, but rarely is it as cold as more notoriously harsh cities like Chicago. You should look for a home with good insulation and energy efficient windows, since you'll need them in January and July. A newer central air conditioner should be viewed as a real estate perk too.
2. Bring your Bicycle
Indianapolis is one of the fastest growing cycle-friendly cities in the country. Mayor Greg Ballard has made it his personal mission to enhance the city's bike-ability, and has done an excellent job so far. A very popular addition, the Indy Bike Hub, encourages commuting to work by bicycle with features such as oversize lockers available for rent and a bicycle repair shop. Indianapolis also has a Bicycle Advocacy Group that provides helpful ride guides and promotes safe biking throughout the city.
3. You're in for a Strong Economy
Indianapolis continues to grow in just about every area economists measure. Forbes has it listed as the 24th best city for business and careers, and job growth continues, particularly in the area's largest industries: healthcare and insurance. If you're ever seeking a career change or new business opportunity, you'll be in a stable environment for upward mobility. The city is among the hottest real estate markets—for residents and businesses, which is good news for everyone.
4. Your Car Needs Registering
Once you've lived in Indianapolis for 60 days, you're at risk of a ticket if you haven't already registered your vehicle in Indiana. The state requires you to have the Indiana license plate on the vehicle in your name. The steps can vary, depending on where you're moving from and where you bought your car, but the Indiana DMV site outlines the process here.
5. IndyGo Is for Everyone
Public transportation systems tend to be one of the most complicated aspects of learning a new city, but once you learn the IndyGo system, it's a breeze. The bus system offers convenient routes, connecting all of the city's diverse neighborhoods, and it allows easy access to landmarks like the Indianapolis Zoo and International Airport. Fares, too, are relatively inexpensive at $1.75 each-way, with discounts for day passes and certain citizens. When you're first learning and exploring the city, IndyGo can be a great resource to learn the streets and areas.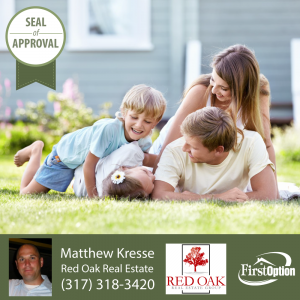 This post was brought to you in partnership with Matthew Kresse, a First Option recommended realtor. Matthew enjoys the challenge of turning his clients' real estate goals into reality. Call him today at 317 – 318 – 3420!
If you would like to learn more about mortgage rates in Indianapolis, simply fill out our Fast Response form or call our local branch at (317) 713-9500. Our experienced mortgage professionals would love to sit down and discuss your needs. We look forward to hearing from you!
Tags: house hunting, housing market statistics, Indiana Mortgage, Indianapolis Home Loan, indianapolis mortgage, Real Estate