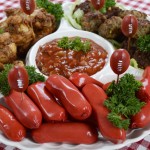 It's almost time for the big day. If you've
remodeled your man cave
and upgraded the TV, then you're ready for kickoff. But if you're hoping to host a great party or even The Best Super Bowl Party Ever, you'll need to raise the bar. Here are a few extras you can throw together fast to earn that title and ensure your party lives in infamy.
Up your snack game
We all know chips and a good dip are a great Super Bowl snack, and no game would be complete without at least one plate of wings. But don't make the mistake of serving exactly the same foods everyone else serves. Lift your snacks to a whole new level by putting a classy and creative twist on old favorites, like these bacon-wrapped (chorizo-stuffed) dates, these salami sliders, or this tipsy popcorn — because everyone knows popcorn is better when it's cooked in a little bacon fat and whiskey.  
Keep surfaces clean
You can't have a great party if you're always running around after guests, throwing coasters under glasses and wiping up sticky drippings off the coffee table. A little preparation and a roll of craft paper is all you need to keep your surfaces clean. Craft paper can be found at just about any craft or school supply store and comes in a range of colors. Just cover all table surfaces, taping down the edges to keep it in place. You'll thank yourself the day after when cleanup is a breeze.
Arm your guests for spills — they're inevitable
Get out a broom (or a vacuum) and put it in a visible, easy-to-reach spot so when something spills (and something assuredly will), guests don't have to go hunting for a way to clean it up. The same goes for rags and hand wipes. Buy at least twice as many Wet-Naps as you think you'll need and set them out in bowls all over the house. They're the key to preventing wing-sauce fingerprints on your furniture.
Create charging stations
Stock up on power strips and set them up near to the action on a table or mantle. If you want to get really fancy, you can put up a sign pointing out the official charging stations. If you have extra cords from previous phones, all the better. But smart guests will bring a charger with them, knowing they're bound to need a little power boost at some point.
Give them a kitchen TV
No matter what kind of party you throw, guests will always end up gathering in the kitchen. They come in to grab a six pack to refill the cooler and wind up hanging out for 20 minutes. Give these stragglers the chance to keep up with the game by setting up an extra TV in the kitchen.

Putting just a little extra thought into your Super Bowl party will lift you above the rest and give your friends something to talk about for years to come. Are you a seasoned Super Bowl host? Share your best tips with us on Facebook and Twitter! And if you're in the market for a new home to host next year's Super Bowl party, give us a shout!