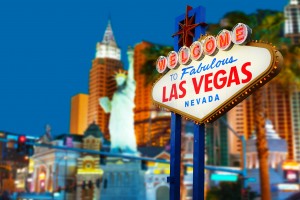 Las Vegas doesn't exactly have a kid-friendly reputation. With its gambling, cocktails, and general Rat Pack vibe, Sin City doesn't often cater to children. That reputation can be a bit of a stumbling block for potential homebuyers who want to move there. The
Las Vegas housing market is a good bet right now
, but lots of folks understandably want to move somewhere where they can have a good weekend with their kids.
The good news is that Vegas isn't just a vacation destination, and it's a lot more than just the Strip. There are plenty of great ways to have a good day out with the kids if you live there. Here are our favorites.
1. Hike, climb, and ski
Just beyond the artificial flashiness of Las Vegas are some of America's most striking natural areas. The Red Rock Canyon National Conservation Area boasts views that the Strip can hardly compete with. Walking with kids among the desert flora and witnessing the geologic layers up close is a great day out, and the kids might even learn something. The red desert isn't the only bit of nature near Vegas, though. You can also find snow-capped peaks nearby. Mount Charleston offers hiking, skiing, and more opportunities to go out in nature with the kids, all at an easy distance from the bright metropolis.
2. Marvel at Hoover Dam
Las Vegas is a wonder in and of itself, but it's also very close to one of the most impressive feats of human engineering on Earth. The 726.4-foot-high Hoover Dam is taller than many skyscrapers, and the Depression-era structure forms Lake Mead, the largest reservoir in the United States. A day at the dam means kids can learn all about hydropower and why reservoirs are important. They can also start to appreciate the feats of engineering humans can accomplish. If they've had enough of the dam, there's always Lake Mead. It's more than just a reservoir; it's also a place to go to the beach, swim, and enjoy time in the water — even in the middle of the desert.
3. Take in a spectacular show
Of course, there are some classic Vegas activities that are totally kid-friendly. While the kids might not be into watching a crooner trying to channel Sinatra or going to see an Elvis impersonator, they'll almost certainly get a kick out of a magic show or Cirque du Soleil. Las Vegas has no shortage of talented illusionists and acrobats, many of whom put on family appropriate shows that will wow onlookers of any age. Seeing a magician levitate a light bulb or witnessing acrobats fly from trapeze to trapeze can make for a grand day out.
4. Plan a day trip to a museum
Vegas has Madame Tussauds, of course, but also a host of more traditional museums. Nevada's history is fascinating and colorful, all of which is on display at the Las Vegas Natural History Museum and the Nevada State Museum. Being in the desert means easy access to fossils, so if your kids are into prehistoric animals such as dinosaurs or mammoths, these are the places to take them. If your kids are a little older and like history, you can also have them learn a thing or two at the National Atomic Testing Museum, where they can learn all about Nevada's explosive past.
5. Live there!
Lastly, one of the best things to do with your kids in Las Vegas is to simply live there with them. Like we mentioned at the beginning, the Vegas market looks rosy for potential homebuyers, and most of the residents there lead normal lives that have little or nothing to do with casinos or floor shows. Las Vegas is a thriving city with excellent schools and kid-friendly neighborhoods.
Speak to a qualified First Option lender to review what home loans are available for you and your family in the Las Vegas. Once you have a pre-approved loan, we can pair you with a real estate agent with experience in the area. To get started, fill out our Fast Response Request form, or give the Nevada branch a call at 702-669-5400.