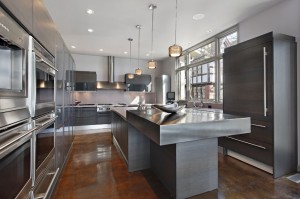 An updated kitchen can be one of the biggest selling points on the market right now. Prospective home buyers want to walk into a home and find a kitchen where they could cook a meal—not a room in need of updated appliances and full renovation. If you're remodeling your kitchen for yourself or to prepare your home for sale, consider these five essentials to make your space great.
1. Updated Appliances
Even if you have a Cold War-era refrigerator that has another 50 years functional left in it, you need to find a new one. Home buyers look for sleek appliances with all of the modern amenities, not just basic functionality. Make sure your stove and oven are in tip-top shape, and splurge on a microwave with the finest features. These little conveniences can turn lookers into bidders.
2. White Walls
White not only opens up and brightens a space, it exudes cleanliness. Your kitchen should look like a place where people would want to prepare and eat food, so add a fresh coat of paint to walls, especially in places that may have some smoke damage or grease stains.
3. Ergonomic Design
A kitchen needs to be functional, first and foremost, and part of that means accommodating the space for any age. Install pull-out shelves in lower cabinets, and vary counter height by altering the height of the base. Also be sure to create wide passageways between counter space and appliances. If this means removing an island, or shrinking it, a more open room can be worth the lost cabinet and counter space.
4. Increased Storage
A recent study found that 47% of households keep a portion of their kitchen supplies in other rooms, the attic, or even storage sheds. To have a kitchen where all or most of its appliances and dish ware can make your home a rarity. Install shelves and drawers, then, that can adjust, swivel, and extend as needed to store appliances and cooking utensils of different sizes. To save drawer space, install a rack to hang your pots and pans from the ceiling above the sink or stove, and add a magnetic strip for knives—a hygienic method that can clear up counter space for a mixer or juicer.
5. New Countertops
Countertops are usually one of the first things people notice when they walk into a kitchen, so you need to make sure yours are modern and sheen. Carrara marble remains the most popular option, but granite and even new laminate countertops are viable alternatives, if you don't currently have the budget for stone.
If you're interested in purchasing, refinancing, or learning more about mortgage rates, simply fill out our Fast Response form. Our experienced mortgage professionals would love to sit down and discuss your needs. We look forward to hearing from you!
Tags: 2014 Housing Trends, Everyday Living, Home Renovations, housing market statistics, Real Estate, Selling Your Home