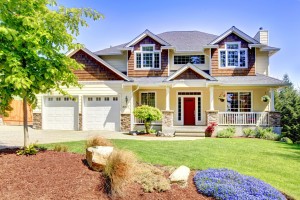 We love houses, and we love movies and TV shows that feature beautiful homes! Check out our five top fictional dwellings and see how they match up with your favorites! 
The Holiday
This film features a double whammy of wonderful homes. First, you have Kate Winslet's English cottage, which has beautiful stone walls, and is seated in the idyllic English countryside. Just take a look at that staircase! How could you resist?
Second, you have Cameron Diaz's California mansion. And it's a beaut. It's actually a real home in Pasadena, and conjures up images of sunny beaches and lazy summer days. Houses are crucial for the movie, too. It's a romantic comedy that centers around a house swap that leads to love.
Friends
When you think of sitcoms and interior spaces, everyone knows Monica's apartment from "Friends." Though it's not the only interior location in the series, it's one of the main ones, and offers a lived-in look on an open floor plan. Really, nothing screams contemporary Americana and the idealized version of New York more than this particular set.
Life as a House
"Life as a House" is a heartwarming story about an architect diagnosed with cancer who decides to renovate an old property to reconnect with his estranged son. The movie goes through the process of restoring a beautiful seaside home, and features a great performance from Kevin Kline. If you feel inspired after watching it, check out our guide to renovating on a tight budget.
House
Ok, we realize this one really doesn't have much to do with actual houses. But c'mon, can you blame us? It's a great show about a Sherlock Holmes sort of doctor who solves mystery medical cases. The hospital he works in has fine architecture, though. If the genius of Dr. House has you inspired, try out these 4 easy summertime DIY projects.
The Royal Tenenbaums
This classic film is the story of a dysfunctional family told in the way that only Wes Anderson can. The main Tenenbaum house is an actual home in Harlem that Anderson rented for the purpose of shooting his film. After the film, the home became a private residence because it was so beautiful. Check out this fantastic overview of the homes featured in the film.
Feeling inspired after checking out these beautiful interior spaces? Get in touch with First Option Mortgage to see if we can help you start your home buying journey, and share your favorite movie and TV houses with us on Twitter or Facebook.
Tags: Everyday Living, first option mortgage, Real Estate