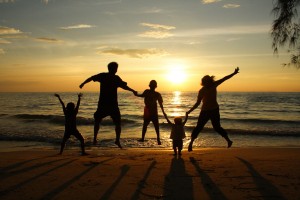 In 2015, It has been reported that 30% of residential purchases in the Unites States are from investment purchases or vacation homes, rising from 21% in 2015. This surprising figure is due to a simple fact: second homes are no longer just for the fabulously wealthy. With tax benefits and the opportunity for added income, homebuyers on a budget can consider purchasing their own home away from home.
Not only are vacation homes a relaxing way to get away from the stress of everyday life, it's a significant investment. If you're considering making a purchase that could appreciate in value, you should consider the best way to maximize your budget. Here are 5 vacation destinations that are a great place to start, both scenically and financially.
Crossville, Tennessee
Nestled in idyllic Cumberland County, Crossville is home to several relaxing places of interest for families looking for a second home on a budget. Considered the "Golf Capital of Tennessee", Crossville shares over 12 different courses for the proud golfing aficionado.
The city is adorned with beautiful stonework architecture centered around the iconic Native Stonework museum. The Palace Theater, Horace Burgess' Treehouse (A fantastic treehouse that serves as a church), and Cumberland Mountain State park are all tucked within the city limits of Crossville.
With year-to-date 2017 median prices of $87,500, Crossville is a fantastic city to invest in while not breaking the bank.
Port Charlotte, Florida
Named by both Forbes and CNN as one of the best places to retire, Port Charlotte is a fantastic beachside market to vacation in. With average temperatures of 87 degrees, there will never be a season you won't be able to sneak away to in Charlotte's gulf beaches. Nestled between Charlotte Harbor and Sarasota, you'll be hard-pressed to visit all the boating and dining occasions the area has to offer.
2017 median prices range around $150,500. While this may sound costly, Port Charlotte is one of the greatest cities to invest in, with a 5-year appreciation value of %115 percent.
Ocean City, Maryland
Officially called the Town of Ocean City, this Atlantic city is the place to visit in the northeastern United States. The 2010 census shows about 7,100 people live in Ocean City during the offseason, surging to 8 million vacationers annually.
Ocean City, while known for its Senior Weeks, also hosts a wide variety among the coast. Visit South Ocean City's Boardwalk to enjoy the world-famous Jolly Roger or Trimper amusement parks, or just peruse the pier to take part in what USA Today calls the "best boardwalk for food".
The Town of Ocean City holds a much larger investment, with median values ranging around $230,000. If iconic locations are your thing, Ocean City is your vacation destination.
Medford, Oregon
If you're looking for a breezy & temperate vacation home on the west coast, Medford's natural scenery and beautiful architecture might be just for you. Whether it's rafting along the Rogue River, or visiting the historic Alba and Bear Creek Parks, you'll enjoy the lush, untamed beauty of this temperate town.
Boasting the 4th-largest population in Oregon, Medford is the government seat of Jackson County. You'll see pricier home medians of $238,450, but your investment appreciation is projected at about 62% over five years.
Sun City, Arizona
So-called the "original fun city", Sun City has 8 of the nicest golf courses in the southwest United States. Relax in Sun City in their largest spa resort located in Gateway Park, or enjoy the nearby nightlife in West Valley's Desert Diamond Casino.
Discover the beautiful Southwest on King's Tower observation deck, or dig into the enormous Pilansberg National Park. You can expect to invest in Sun City's beautiful homes for about $151,425, appreciating in value over 5-years by about 81%
If you're interested in purchasing, refinancing, or learning more about mortgage rates, simply fill out our Fast Response form. Our experienced mortgage professionals would love to sit down and discuss your needs. We look forward to hearing from you!