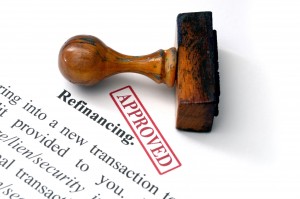 Mortgage refinancing is a great option for people looking to lower their interest rate, pull equity out of their home, or lower their monthly mortgage payment. While interest rates are not at the lows seen in 2012, they remain at historically low rates, making refinancing now an attractive option for many current homeowners. Before you make the decision to refinance and take the next steps to obtaining a new mortgage, make sure you watch out for these four ways you can jeopardize your mortgage refinance.
Waiting for Rates to Go Down
While rates are still incredibly low, they have trended up in recent months and are expected to continue to increase gradually over the next year. One percentage point can mean thousands over the life of your mortgage. Waiting for rates to go down again is a gamble that you may not be able to afford. Begin the conversation with a mortgage lender now and get the process started before rates increase again.
Assuming Too Much Value in Your Home
Home prices have been on the rebound, which is great for the market and great for homeowners. However, prices are still not at the highs seen in 2006 and overvaluing your home could leave you with expectations that cannot be met. If you're looking for a cash out refinance, take a look at home values in your neighborhood to get a better idea of what you may be able to expect on your home. Also remember, if you're underwater on your mortgage, there are still programs available to assist you in refinancing, even if you have been denied on these programs in the past.
Beginning a Renovation Before the Appraisal
Of course you're excited to get a home project or renovation under way. Who doesn't look forward to a new bathroom, kitchen, or master suite? Don't let your excitement get the best of you. Wait to start your renovations until the appraiser has come out to value your home. They appraise based on the current condition of the home, and if the home is in shambles from a renovation in process, it can have a negative effect on your home value.
Lack of Communication
Be available for your lender throughout the refinancing process. Paperwork requirements can require additional documentation during the refinance process. If you're not around to provide them, you can delay the refinance or even put it in jeopardy if you're not careful. Responding sooner than later to lender documentation requests will keep the underwriting process moving ahead smoothly and allow you to complete your refinance quickly.
First Option Mortgage makes refinancing easy. If you're interested in purchasing, refinancing, or learning more about mortgage rates this fall, simply fill out our Fast Response form. Our experienced mortgage professionals would love to sit down and discuss your needs. We look forward to hearing from you!
Tags: first option lending, first option mortgage, mortgage education