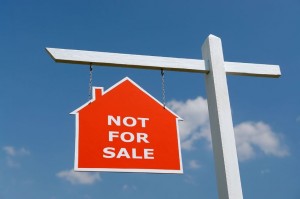 Finding a house you can imagine living in is hard enough; making an offer on one—or five—and losing to another bidder can be devastating. It's a reality, though, for many homebuyers in markets with an inventory shortage. Competition is fierce, so even finding homes for sale takes a great deal of time and effort. It isn't impossible, though; you just need to look in less conventional places. We've come up with four ways to find a home during an inventory shortage, to give you a leg up on the competition.
1. Expired and Withdrawn Listings
Many homeowners who tried to sell during a slow season may not realize how much the market has picked up. Most give up and let their listings expire if they never received a good offer, but they may still want to move if the price is right. Have your agent search databases for expired and withdrawn homes. A price that was too high when it went on the market may be a bargain now, and if you make a serious inquiry, many homeowners with expired listings will respond.
2. Check Rental Properties
Many rental properties have a story behind them: vacated due to a sudden move or divorce, rented instead of sold due to a bad market. Many rental property owners plan to own and rent for the long haul, but quite a few would sell if they knew how much the house was worth. Visit these homes, and if you like one, make an offer strong enough that the owner will at least have to consider selling.
3. Consider Overpriced Listings
A lot of people list their homes for more than they're worth—sometimes much more, despite protests from their real estate agents. Not surprisingly, many of these remain on the market for a long time, even during an inventory shortage. After a few months the curb appeal begins to diminish as the owner becomes less enthusiastic about weeding the lawn and cleaning for open houses. Though they may not budge in lowering the list price, many homeowners will sell for less than what they're asking, so make a reasonable offer even on properties that seem to be outside your budget.
4. Find Off-Market Listings
The best real estate agents are connected enough to have insider knowledge on unlisted properties. This isn't uncommon: many homeowners are willing to sell but don't want to (or are unable to) list. Agents share these properties internally, and some even have databases of "pocket" listings that remain off the market. Find an agent who has such connections, but network yourself. Use community forums, churches, and word-of-mouth to spread the news that you're looking for a home. You may stumble across a property that no one else can find, much less make an offer at a higher price.
Tags: 2014 Housing Trends, best time to buy a home, first time home buyer, house hunting, housing market statistics, Real Estate