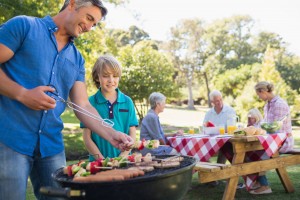 Vacations can be the perfect mix of paradise views, tourist traps, and road trip games. You get to take in new sights, meet new people, try new foods — it's the good life. But if you're trying to
save for a home this year
or things are a little bit financially tight right now, you don't have to compromise when it comes to having a relaxing break! You can have fun right at home by exploring your city or the surrounding area. 
Whatever you choose, there are plenty of opportunities for new, interesting experiences right outside your door.
Explore new sights, meet new people
How well do you know your city? Once you settle down in a neighborhood, it's easy to become a creature of habit and not spend enough time exploring the rest of the city. Beyond the restaurants, parks, and shops you frequent, there's a wealth of options available to you in surrounding neighborhoods or even across town.
Make it a point of your staycation to experience someplace new every day. Take a chance and ask a passerby to recommend their favorite pub or thrift shop. Visit art galleries, museums, or historic monuments. A big part of making your staycation one to remember is to make the familiar new again!
Another great way to get out and explore a different side of your home city is to work with a volunteer group or organization. Spending some time building houses with Habitat for Humanity or delivering food for Meals on Wheels will not only put you in good company and teach you new skills, it will give your staycation a meaningful purpose.
Upgrade your digs
Even though you're staying in town, nobody said you have to stay at your house! Rent a hotel room and treat yourself to room service, or find a bed and breakfast just outside of town. If you're looking for a different experience than the standard hotel, rent a home in a touristy neighborhood or give tiny house living a try to find a unique vacation spot that can give you a new perspective.  
Hit the trails
The great outdoors can provide a multitude of healthy staycation activities. Look up local hikes and outdoor activities to entertain the family using the National Park Service's Park Finder tool. Look for nearby wildlife preserves or zoos. Soak up some sun at a lake, river, or beach. Or pick up some local foods from the farmers market for a picnic featuring a taste of your town. Look to the outskirts of your city to get the feeling of travel without the expense. The money you're saving on travel can go towards making your experience memorable.
Stay put
Sure, going outside is great, and so is staying under a different roof. But, you can also have just as much fun at your own home. Many staycationers use the opportunity to begin home renovations or landscaping projects. Take some of our tips to help boost your home's resale value and check off those to-do lists.
But your staycation doesn't have to be about getting things done. It's your party, and if you just want to sit and binge a new TV series while eating ice cream, that's cool too. A little nap never hurt anyone either. Relaxing at home is important — it gives you time to appreciate the comfortable abode you've made for yourself.
You don't have to go far away to have a great time. Saving all that vacation money will put you in a good spot when the time comes to put a down payment on a home. If you're looking to finance a home, First Option Mortgage is here to help out with the details. Contact us with our quick response form, or if you have more staycation ideas, share them on Twitter or Facebook!
Tags: Everyday Living, staycation, tourism