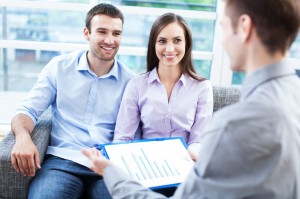 If you're looking to buy or sell a home, chances are, you're considering using a professional to help you through the process. Using a real estate agent to help guide you through the process has some critical advantages. These can make the commission you'll be providing worthwhile if you choose the right professional to represent you.  From a seller's perspective, they can help you price your home appropriately, market it effectively, and negotiate zealously. From a buying perspective, they can provide insights into market trends to ensure you're not overpaying, offer access to insider information when it comes to new listings on the market, and help ensure you're making a wise long-term investment.
Before you move forward with choosing a realtor to represent you, here are four steps you should take to make sure you're selecting the right real estate agent for your needs.
Look for Someone Well Connected
Ask your mortgage agent or other industry professionals to help point you in the right direction. There are plenty of benefits to having your mortgage agent and real estate agent working closely with one another. Ask for referrals and look for pre-screened agents that have a proven track record in your market.
Look for Someone Who Specializes in Your Market
Are you looking for a buyer's agent or a seller's agent? What neighborhood are you interested in? Housing trends in cities can differ greatly from neighborhood to neighborhood, and an agent familiar with your market niche will have a much better grasp of how quickly homes are selling in the market. They'll also have more familiarity with the quality of schools and the overall livability of individual areas you are seeking to buy or sell in.
Ask Tough Questions
Don't be afraid to ask your prospective agent what they have to bring to the table, how they intend to market your home or find your ideal home, what their track record is like, and if they have referrals that they would be willing to provide. Consider this a job interview of sorts; you are after all hiring them to do a job for you, so treat it as such.
Make Sure Your Agent is Tech Savvy
Whether you are hiring them to buy or sell a home for you, the Internet is critical in the world of real estate these days. Great agents will have laptops and mobile technology at their fingertips to help with the home search. They also need to be readily available by email and text for sellers and buyers alike.
If you're interested receiving referrals to First Option's pre-screened real estate agents, we can send along listings that meet your criteria immediately! We have trusted Real Estate partners that specialize in nearly every area, so you can be assured that you'll work with someone who has a strong knowledge of your desired neighborhoods.
If you're interested in purchasing, refinancing, or learning more about mortgage rates, simply fill out our Fast Response form. Our experienced mortgage professionals would love to sit down and discuss your needs. We look forward to hearing from you!
Tags: best mortgage broker, first option lending, first option mortgage, first time home buyer, home mortgage, house hunting, Selling Your Home