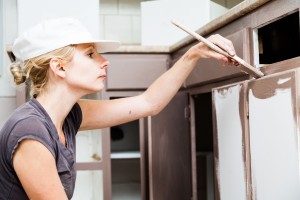 It's hot and sunny and you've got home improvement on your mind. That's good news, because summertime is the best time to make your DIY dreams a reality. Below is a blueprint for some great project ideas to tackle this summer. And if you still can't scratch the DIY itch when you're done, check out our guide to remodeling your house to up its resale value. Grab your tools and let's get started!
Deck out your deck
The deck is an excellent place to start when summertime rolls around. When you're done, you get a nice place to hang out and catch some rays. If you already have a deck and it's in decent shape, maybe it just needs a new coat of paint and a treatment to protect against the elements. If you're feeling like taking on a bigger project, consider a remodel, or an entirely new deck. Just keep in mind that doing it right can take a lot of work, and it might pay to consult an expert. Check out our guide to some fun outdoor DIY projects as well!
Spruce up the kitchen
Does your kitchen have the summertime blues? Don't worry, there's plenty you can do to cheer it up. Like the deck, a new coat of paint can make a world of difference, but don't restrict yourself to just the walls. If you have a worn wooden floor, you can try giving it a new color and treatment. Replacing the kitchen countertops with some granite or concrete can potentially up the wow factor of the kitchen, too.
Enliven the living room
Is your living room lacking that special something that makes you want to hang out there all the time? A few simple tricks can really take the space to the next level. Try these out for starters:
Rearrange the furniture to create a more welcoming, open space. Think about arrangements that aren't just focused around the TV.

If your couches don't match, consider dressing them up in some covers to bring everything within the same palette.

Take the walls to the next level. Add some nice picture arrangements to fill out the room, or add more interesting curtains to your curtain rods.
Remodel that bathroom
The bathroom remodel is one of the more dreaded activities. It can be tough, which is why we saved it for last — even the most hardened DIYer is in for a fight when doing a complete remodel. Like the deck, it might be a good idea to consult an expert before proceeding.
But you can also make it easier and more fun. Upgrade your shower curtains and towel racks. Change out a faucet or showerhead to really spruce up the room. And if you're feeling really adventurous, go and collect a bunch of mismatched tile and retile the bathroom. Just make sure you're getting everything cut and measured properly.
Go forth, DIYers! These fun projects are sure to keep you busy this summer. If you're looking for a home to make your next fixer upper, contact us and we can get you started on your mortgage journey. And don't forget to tell us about your DIY adventures on Twitter and Facebook!
Tags: DIY, homeowner, homeowner advice, homeowner tips, remodel, Summer