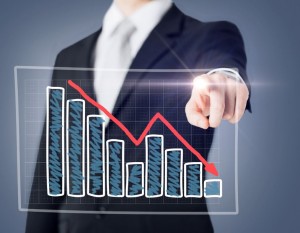 Anyone who keeps close tabs on mortgage rates noticed something surprising in recent days:
30-year rates dipped below 4.0%
for the first time in months. Interest rates have dropped steadily over the past five weeks, and the current numbers hearken back to the lows of 2013. There's no indication in the market that 30-year loans will drop to the same levels at this time a year ago, but the news is good for anyone looking to buy a home or refinance. It's also a sign for anyone who's been dragging their feet to act quickly.
Recent Drops in Mortgage Rates
Market analysts have noted the recent drops in mortgage rates, week-after-week. Starting at the end of April, 30-year loans halted the upward cycle most economists predicted would continue throughout 2014—and then, suddenly, they dropped. The increase was caused by speculation that the Federal Reserve would buy fewer bonds. The government did slow their purchases, but not significantly. A slow housing market this spring affected the rates more than this speculation. When home sales increased less than expected last month, mortgage rates went down.
Effect of the Housing Market
With the success of the housing market recovery in most major metropolitan areas, home values are returning to pre-recession levels. Settled homeowners can rejoice about this, but anyone looking to buy a home is now facing a costlier market, and one with lower inventory. Unemployment rates remain high, which means home ownership remains out of reach for many Americans, and so fewer are applying for mortgages. This should change, as The Wall Street Journal reported that consumer confidence has increased in May. With more inventory and more homes up for sale, more people will apply for mortgages, and the 30-year fixed rate will resume its upward climb.
Refinancing to a Lower Rate
If the interest on your current loan is significantly above 4.0%, you should consider refinancing to secure these low rates before they increase again. Refinancing has become commonplace among lenders, and new government programs like HARP allow more and more homeowners access to low rates. Depending on the age of your loan the reduction of the rate, you could save hundreds each month and tens of thousands over the life of your loan. You might also consider switching from a 30-year to a 15-year mortgage to save even more. At First Option, we work hard to secure the lowest rate possible for you, whether you're refinancing or buying your first home.
If you're interested in taking advantage of these historically low interest rates by purchasing a home or refinancing your current loan, or if you want to learn more about mortgage rates, simply fill out our Fast Response form. Our experienced mortgage professionals would love to sit down and discuss your needs. We look forward to hearing from you!
Tags: 2014 Housing Trends, best time to buy a home, first option lending, first option mortgage, first time home buyer, HARP, HARP 2.0, home mortgage, housing market statistics, mortgage education, mortgage interest rates, refinance, refinancing