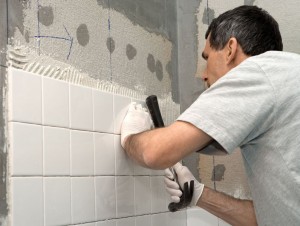 Renovations and home improvement projects are becoming more and more common throughout the country, especially among homeowners who want change but don't want to move. Very few houses feel "perfect," and everyone makes adjustments as they settle into their spaces. Sometimes this amounts to little more than rearranging furniture or painting a room; other endeavors can become much more expensive. If you're about to undertake a home improvement project, you need to finance it first, so consider these three means of funding.
Cash Out Refinance
If you've accumulated a significant amount of equity in your home, you may be eligible for cash out refinancing. The process works just like any other form of refinancing—except that you apply for a loan larger than what you currently owe. Say you owe $100,000 on a home valued at $190,000. This means you have $90,000 in equity. If your home improvement project is estimated to cost $50,000, you can refinance for a loan larger than what you owe. In this case, you would apply for a $150,000 loan, liquidating a portion of the equity and using that money toward your renovations.
Often cash out refinancing results in lower interest rates than other forms of financing a home project, unless your original loan's interest rate is significantly below the current average.
Home Equity Loan
Similar to refinancing, a home equity loan uses your home's equity as collateral. A home equity loan, however, does not affect your current mortgage or interest rate, and unlike refinancing it rarely has a closing cost or other fees. You also may have the choice of receiving the funds in a lump sum, as you would with cash out refinancing, or in smaller portions as a home equity line of credit (HELOC), similar to a credit card. If you plan on tackling your home improvement project slowly, this can be a sensible means of financing. The caveat to home equity loans is that they generally have a higher interest rate than refinancing, so while you may save more initially, the interest can cost more in the long run.
Second Mortgage
A second mortgage operates similarly to a home equity loan, except that there is no line of credit. You receive the money in one lump sum and begin paying off the amount borrowed at a set interest rate and in a set schedule—identical to your primary mortgage. Again, though, the interest rates tend to be higher than refinancing. Second mortgages remain a popular choice for financing home improvement projects, especially if you've hired a contractor and need a larger amount of cash up front.
If you're interested in purchasing, refinancing, or learning more about mortgage rates, simply fill out our Fast Response form. Our experienced mortgage professionals would love to sit down and discuss your needs. We look forward to hearing from you!
Tags: Home Loan, mortgage education, mortgage interest rates, refinance, refinancing