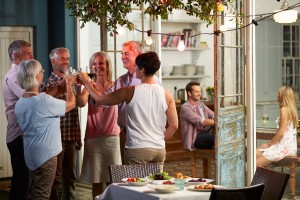 Everyone begins each new year with a few resolutions to live up to. For a homeowner, one of those 2017 promises might be to create a home environment that's perfect for entertaining. If this isn't one of your resolutions, it should be.
Whether you have a big house or a little cabin (or even just a studio apartment), you only really need to focus on three areas to make your home perfect and always prepared for having guests over.
And it's a lot easier than you think.
Multifunctional seating
At any given moment, your home should be able to accommodate a swanky dinner party, a large get-together, or a cozy movie night with the family. And no matter which occasion pops up, your environment should feel like it's meant for the exact amount of people you have over.
We can already hear you asking "but how?" with a scowl. The answer is simple: It's all about multiple seating arrangements. Have an eclectic mix of sofas, big cozy chairs, and benches around your house. Create comfy sitting islands in different locations, each with a mood all its own. You get bonus points if you can arrange your little mood islands so their inhabitants can easily share a conversation with other little mood islands.
Offering a variety of seating arrangements in different areas will also encourage your guests to walk around and mingle. Plus, it's a subtle way of showing off your interior design skills.
Coffee tables with ottomans or benches hidden beneath are also great, because they look stylish, seat at least three, and stay out of sight until needed.
Having a few fold-up chairs is also a good idea when hosting a larger crowd, but keep in mind that no one likes sitting on those uncomfortable things. They should be used as a backup only.
Ideal lighting
Proper lighting is essential in a home, and not just for entertaining. If possible, install dimmer switches so you can create atmospheres in your home. Dimmer switches are also effective at directing guests into areas you want them to stay in.
Bright, direct lights will make a room feel open and accessible, so crank up the wattage in the den or living room. Use indirect or accent lights in hallways and bedrooms — this will make your home look bigger while deterring guests from entering rooms you don't want them in. Think art gallery. You want to illuminate your favorite pieces, but you don't want people touching stuff.
Candles are also a great way for creating ambience in different parts of your home. Keep a collection on hand, and put them out when you need them. Side note: Scented candles in bathrooms are a great idea, but use unscented candles in the dining room, kitchen, and den so it doesn't interfere with the taste of food.
Music all around
You can't host a get-together without good music. Try installing a multi-room audio system, so you can have a soundtrack in any room you like. If this is a little out of your price range, you can also use radios in different rooms. Cooking with music is wonderful, so always have a stereo or speaker in the kitchen. Tunes in the living room or den is mandatory. A radio in the bathroom is always a nice touch, too. And don't forget about the backyard or porch — better weather is on the horizon, so outdoor dinner parties aren't too far away.
Another great idea is making your own playlists for different types of gatherings. You can have a holiday music collection, an eclectic-yet-calming dinner playlist, and even a late-night '80s sing-along set all at the ready. You can easily create playlists on your computer, burn your own CD full of songs, or make the ultimate soundtrack on a free music website like Spotify. And the best part is, you won't have to stop what you're doing to play DJ every 30 minutes.
Feel free to get in touch with us anytime for your mortgage and home-buying needs, and let us know how your next party goes on Twitter and Facebook.
Tags: Decorating, entertaining, Holidays, Home design